It seems appropriate that our first recognition for achievement ought to go to our forebears who excelled in the noble arts of stonemasonry and architecture – and there are three such noteworthies.
Firstly John Wilson (The Mason) of Laws Farm/Drumsturdy and Templehall in Scotland, there followed by his son who is the leading man in our story, Bonnie William of Newbigging (Angus), Scotland and of Hobarton, Van Diemens Land (his full name, William Hartley Wilson).
Thereafter we see William followed by his grandson David Hartley ('Hart') Wilson (down the Frederick Langloh Wilson arm), a notable architect who was also to make his mark with a number of credits in Tasmania – perhaps the most publicly known being the original Wrest Point Hotel.
It is to William Hartley Wilson, the first of our Scottish origins line to emigrate to Australia in 1820, that we give recognition with our greatest honour. He was appointed Superintendent of Stonemasons, and Colonial Architect of Van Diemens Land whilst it was still a part of the sovereign Colony of New South Wales.
Several early constructions in and around Hobart are attributed to him – most notably the original Supreme Court building in Macquarie Street (now part of the Treasury Complex), and the original Scots Church in Bathurst Street – images and comment on these edifices are presented here – Image C-045B William -Architect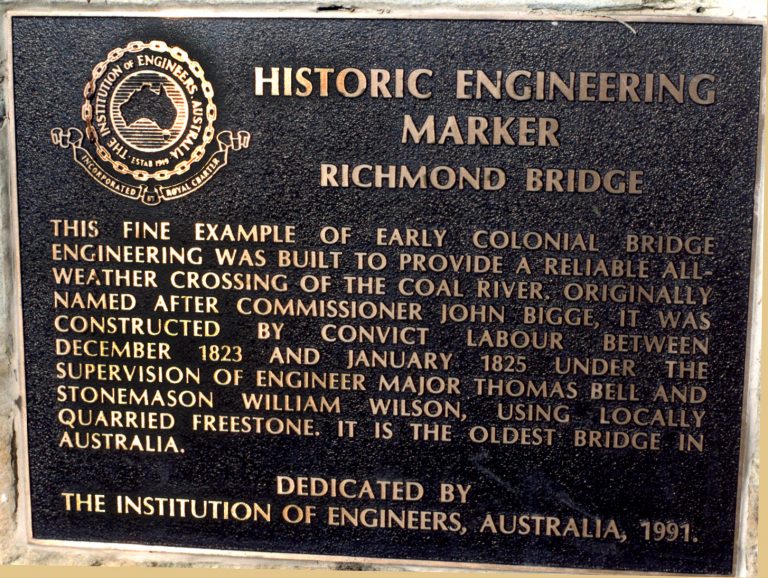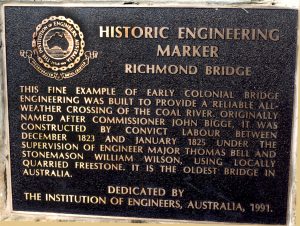 But his most noteworthy achievement was Richmond Bridge, in Richmond Tasmania – originally known as Bigge's Bridge, built between 1823 and 1825 and shown in the Header Image above.
During 2004 to 2005 members of his descendant family cooperated to undertake extensive research into the history of the Bridge's construction and certain modifications which it underwent in the 60 or so years subsequent to its original completion in 1825, and which modifications significantly altered its visual appearance. The project also researched the original flora of the surrounding environ.
The purpose of the research was twofold – a) to understand the construction and appearance of the bridge at the time of its completion in 1825, and the modifications that it underwent over the 60 or so years after that, and, b) to establish a valid basis to guide a professional landscape artist in undertaking on commission an oil painting of the Bridge as it originally appeared in 1825.
This project was completed in May 2007. The story of the research project, its discoveries and its outcomes is set out in the pdf file below, whilst the artistic depiction (low resolution Giclee scan) by internationally noted artist Mrs Joan Humble OAM, is presented below. This image is subject to copyright by the artist.