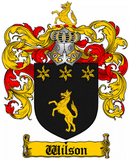 Regrettably to this point no image of William Hartley Wilson, the first of our Australian pioneer Wilson forebears, has been found; we are more fortunate with William's spouse Margaret, having two images, which tend to support her reputation for sobriety and strength of will – in one she is about 45, in the other about 70. These can be viewed in the 'Galleries' section.
But we do have an image of William's grandson Albert Williamson Wilson who according to the story passed down in the Tasmanian arm of the family, bore a striking resemblance to William. His image is shown here.
Margaret died in 1875, William who was 14 years her senior having passed on in 1856 – perhaps just too early to have been captured on film. Margaret was reportedly a sterner figure who in later life after William's passing, "ruled the family with tight reign (or perhaps more validly, rein!)". William's story and that of his family such as we know it today, was first introduced mid 1980s in the 'Synopsis' document "Bonnie William from Dundee" (created by our researcher colleague Michael Wilson) and has been progressively updated with amendments and expansions on this website. In early 2000s our research group produced an audio-visual DVD version of the story, and copies may be obtained via the website administrator. Additionally at that time Michael and his son Tristan produced a moving DVD montage which gently pans through the many images and names of our Wilsons, mostly past, but including some who have been active in our research. It is a silent production except for a beautiful background orchestral symphony by Beethoven.
Origins – It all begins in the beautiful and gently rolling countryside of Angus, Scotland just a few kilometers to the northeast of Dundee. The panorama below was taken in 1998 shortly after the cereal crops had been harvested. The image shows the little village of Newbigging, and beyond it Laws (Hill) and its farm with which it is said our Wilsons of old had a close association. Also visible in this late summer image is the small strip settlement of Drumsturdy extending along the roadway bordering Laws farm to its rear. The Firth of Tay is in the far backgroun, with County Fife further beyond. Family legend in Tasmania today has it that William, shortly after arrival in Van Diemens Land in 1820 came to be commonly referred to as 'Bonnie William from Dundee' establishing himself as a popular figure amongst the settlers, and "a great favourite of the Governor".
A Master Mason in Scotland (in those days a master mason was ranked in skill above an architect), William became the first Colonial Architect of Van Diemens Land, whilst it was still part of the Colony of New South Wales, as well as Superintendent of Stonemasons.
The Scottish birth/baptism records for William and his siblings born between 1773 and 1784 show his family to have been living at one or the other of the Drumsturdie or Laws  locations in County Angus – in fact most probably at just the one address for most of their time there. Their address in Monikie Kirk records is sometimes stated as Laws and other times as Drumsturdie. These locations are contiguous; the lower level of Laws Farm lies along the Drumsturdiemuir (Drumsturdie Moor), as does the strip settlement of Drumsturdie (called Drumsturdy today) – so it is correct to call both as being in Drumsturdy whilst only houses along the lower edge of Laws Farm ought be called Laws.
Margaret Williamson's family lived within adjoining Barry Parish (at an earlier time called Barrie), such evidence as we have suggesting she was born or christened in the town of Arbroath and lived, or was employed in the nearby village of Carnoustie. A legend about her told in the Tasmanian family suggests she was a governess: if this were so it may well have been at the large Carnoustie House Estate – at that time (1800-1820) the Carnoustie locale comprised little more than this Estate owned by the Kinloch family. Further material on Margaret's origins are set out in another essay in our Stories page.
The enlargeable images below (click to enlarge) feature images near Newbigging at different seasons of the year – an image in late winter early spring and shows a ripening canola crop with a raspberry plantation in the foreground. Then a colourful (the rather lovely pink bushes at the fore are in fact common weeds) late spring/early summer showing the fields cropped of their cereals with straw ready for storage. Laws Farm is to the rear (in both images) with its late summer crops still green, the strip of homes along Drumsturdy Road is set between Laws Hill farm and the cropped fields.
The third image, taken a few kilometers to the north of Newbigging village on Carrot Hill, reminds that it can get a little chilly during a winter visit. Carrot Hill offers a splendid panorama to the north towards Kirkbuddo and Dunnichen. Kirkbuddo is the site of an ancient Roman military camp; Dunnichen is the village in or near which Margaret Bowman was born and lived. Her family details remain untraced (2017), the limited information we have indicating the Bowmans were farmers there.
Richmond Bridge – His most well known legacy, outside we his family, is the beautiful Richmond Bridge in Richmond, Tasmania, shown below and further featured in the 'William – First Architect' ………. , and 'Richmond Bridge just as ………. ' stories. Richmond Bridge is the oldest bridge in Australia still in use; beyond the bridge in this image is St John's Catholic church, the oldest catholic church in Australia.