We are fortunate that numbers of items and images from the era of our forebears have been preserved in various of the Family's arms and in repositories around the world and can be witnessed by all today. We present here a gallery of those so far identified. It's likely more will come to light with ongoing research. The items presented here include some with which William & Margaret had association in Scotland or later in the Australian colonies, and also some whose origins emerged later again lay with their three sons and spouses.
ITEMS OF SCOTTISH AND ENGLISH PROVENANCE
# Newbigging Church memorabilia of significance is the 1789 Stone Tablet recording the names of the church's first managers which was placed within the church at its inception in 1789. The reverse face records the name of the Heritor, Sir Alexander Ramsay (Gallery image below). William's father, John Wilson, whose name is recorded on the tablet was instrumental in the secession movement which led to establishment of Newbigging church, and who as a mason played a leading part in its construction.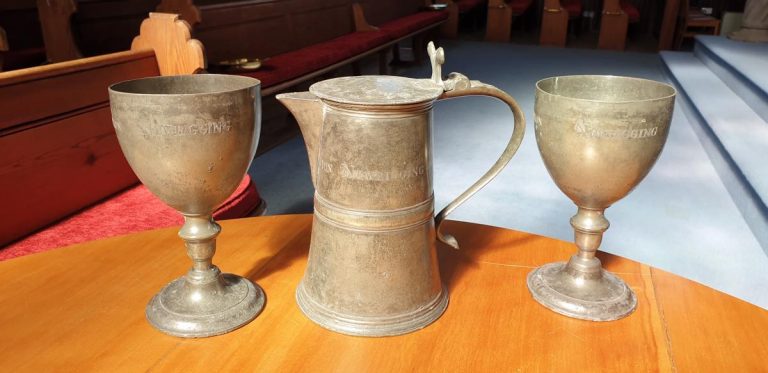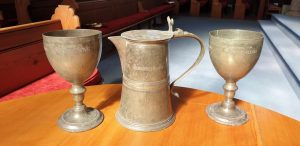 # Probably of greater significance from Newbigging Church is the 1789 Communion Chalice Set which since closure of the church in 2007 was retained at the nearby Monikie Kirk. In 2019 Monikie Kirk Elder's Council very kindly granted the Set to be held in perpetuity on display at Scots Church in Hobart – this gracious grant was in recognition of the 200th anniversary of William & Margaret's marriage in Monikie Kirk, and their emigration and arrival in Van Diemens Land in 1820. The pewter chalice and wine jug Set as now on display is shown here – enlargeable in the Gallery below. Most significantly in this placement is that our Bonnie William is credited as the mason responsible for construction of the the original Scots Church, Hobart, which is now its Museum. A pewter Communion Token from Newbigging Parish gifted to cousin Jane Wilson during a recent visit is shown in Image 3801 in the Gallery Set below.
# Of much more personal significance is the beautiful wedding apparel worn by William and Margaret on the occasion of their marriage at Monikie Kirk in June 1820. How fortunate we are that descendants of the Tasmanian Frederick Langloh Wilson arm donated these items in perpetuity to Narryna Museum in Hobart where by appointment it may be viewed. The apparel comprises Margaret's gloves and bonnet, and William's wedding shirt onto which family legend says Margaret crocheted the heart shape and William's initials. A Narryna curator described the apparel as being of very high quality and whilst we might like to imagine the 'pearl' studded bonnet was adorned with the rare Tay Estuary pearls, regrettably it is not so.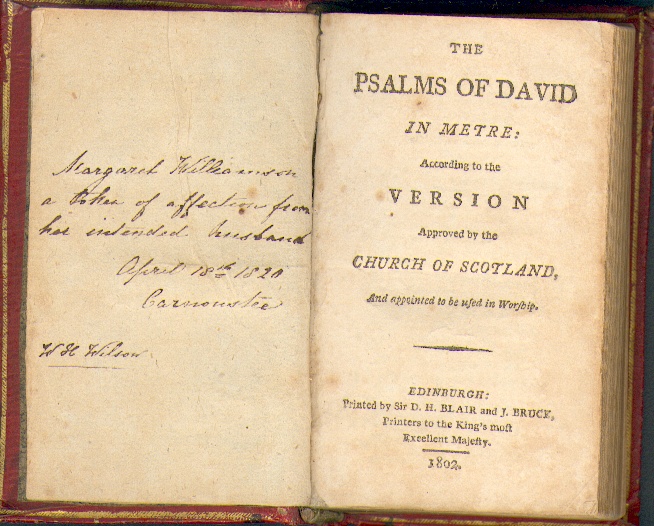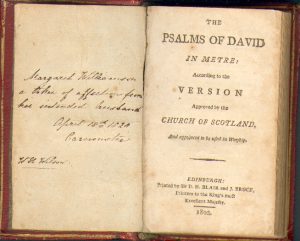 # Preceding their wedding, in 1820, William presented Margaret with two small New Testament booklets in which he inscribed his message of affection. Was he kindly thinking of his future descendants in that he also dated his gift (April 18th, 1820), stated the location (Carnoustie), and signed inclusive of his middle initial (H) thus confirming he was named Hartley at birth. Prior to discovery of this inscription it had been surmised in legendary stories that the middle name Hartley was adopted post arrival in VDL in order to separate his identity from three other William Wilsons known to be there at that time. His future daughter-in-law's father William Boradaille Wilson is said to have adopted his middle name. Enlarge version in Gallery below.
# Many regard William's James Sandy violin as the 'piece de resistance', and it's still held within the Tasmanian family – see Gallery Image 3766 below. Image 2116  shows a James Sandy maker's mark located within the instrument. The violin underwent some restoration work a few years ago and as can be seen from the image it is now in excellent condition, indeed our Tassie cousin Jane was interviewed on ABC radio during 2021 about its provenance, and during the interview a violinist from the Tasmanian Symphony Orchestra (Ms Edwina George) played several bars of two Jig pieces on it.
ABC has kindly made Jane's most interesting interview available and it is now posted above for all to hear including something of the sounds which William and family enjoyed, and as we have learned from a Skelton voyage diary (by passenger Thomas Scott), as enjoyed by passengers and crew several times during their 5 month voyage. The Scottish Jig pieces played here would be of the type to which passengers would have danced and sung in evening entertainment compliments of Bonnie William way out there on the high seas. Be sure to listen right to the end to hear both Jig renditions.
Jane also sought information from Mr David Rattray of the British Violin Making Association as to the quality standing and value of British origin violins – the exchange may be seen here Rattray re Violins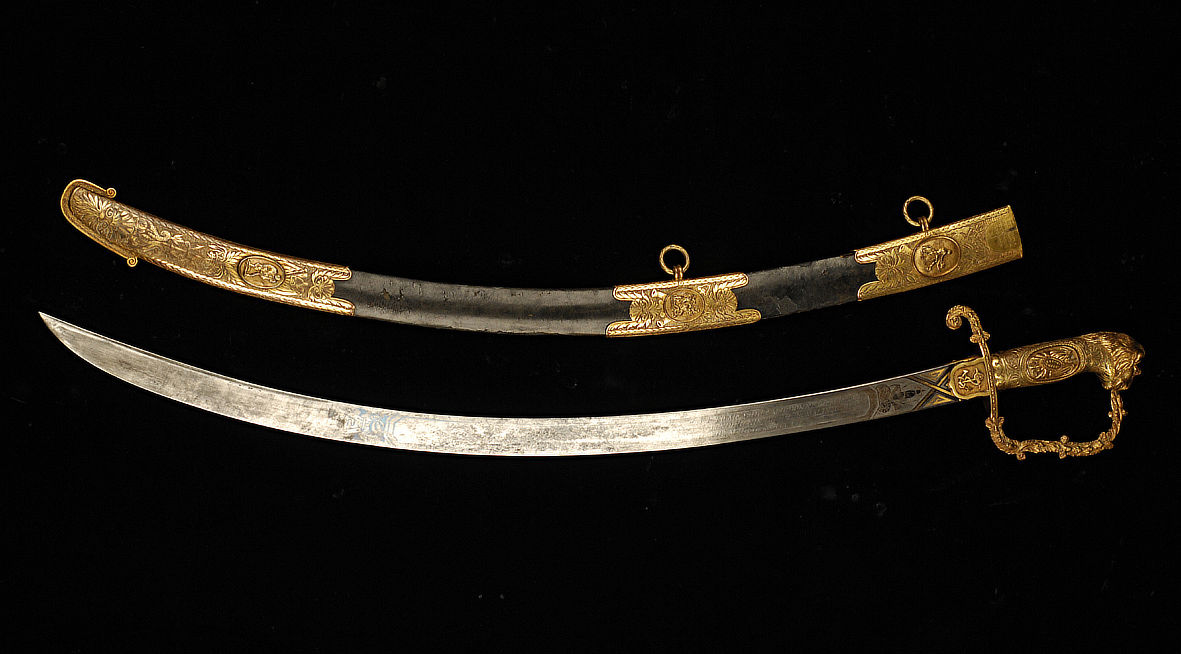 # An item of English provenance which features proudly and with a good dose of historic intrigue within the John Bowman Wilson (3rd son of William & Margaret) family is the gold handled ceremonial naval sword (and it is in fact real gold) of the illustrious Captain William McDonald, about whose maritime exploits there are several engaging stories to be found in the HONOURS and the STORIES II pages of this site. Images showing greater detail of handle and scabbard inscriptions are shown in the Gallery below. Captain McDonald and his de facto wife Agnes Smith came to VDL in 1833 bringing the sword with him. The story of its usurped passage thereafter is told here and in other stories on the STORIES II page. Around 2005/6 it was acquired by the British National Maritime Museum and today remains on display in its Falmouth, England facility.
ITEMS OF VAN DIEMENS LAND-AUSTRALIAN PROVENANCE
# From descendants of the family of William Sorell Wilson (b.1821, oldest son of William & Margaret) and Eliza Wilson, a silver spoon passed down via WSW-EW's daughter Elizabeth Boulter through to her great-granddaughter Katherine b.1976. Dated 1852 it was most probably from a wedding gift cutlery set gifted them on their wedding in 1856. See it in the Gallery images.
# From descendants of the John Bowman & Agnes Eliza son are two items of jewelry – images of both are in the Gallery below.
The first is a pair of solid gold patterned ear-rings passed down via the family line of John's son Edwin and held by Edwin's g-grand-daughter in Brisbane today. The legendary story which accompanies these states they were fashioned from gold which had been won by John from the time he spent as a prospector at Table Hill, near Guildford, Victoria in the 1856-64 period, or it is alternatively surmised from gold won by John and his son Edwin at the Tubbarubba goldfield on the Mornington Peninsula, Victoria – Tubbarubba was just a few kilometers from their Tuerong Park farm. They were initially worn by John's wife Agnes Eliza nee McDonald-Smith, then passing to Edwin's wife Annabelle Cavell The ear-ring patterns are of Australian flora and fauna.
The second item is a women's collar clasp also of gold (pink gold in this case) said to have been won from Tubbarubba by John and initially for his wife Agnes Eliza then gifted to their daughter Agnes Wilson nee Cavell and thereafter passed down through Agnes' family. The central stone is understood to be a citrine.
# Held by descendants from the son Frederick Langloh and Jane nee Stevens are copies of two images of Wilson antecedent Matriarch Margaret – one a photograph from a painting which family legend indicates was painted by her husband William when she was about 45 years of age. The other is a photograph when she was in her 70s. It can be dated by the oval surround presentation style which became the vogue of such images taken by professional photographers of the time from the late 1860s on.
These images are also presented in the Gallery below together with two further image interpretations created from them. One is a recent painting by a professional Melbourne artist based on that of Margaret at age 45. It was created to display a clearer impression of Margaret's features. From it, using highly professional 'de-aging' software Margaret's g-g-grandson Tristan Wilson, produced an image of Margaret as she would most likely have looked at age 24 when she married William in 1820. Indeed Tristan and his father Mike have really excelled by applying this technology in this animated video clip of Margaret – pending – but in the interim – have a laugh – Nursing_Home_Talent_Show
Margaret animation – aged 24 and giving us a hint of a fleeting smile – Young Margaret Wilson ~ 1820 -0-Enhanced-Animated (video-converter.com)
Meantime where is an image of William – to our great regret none has been discovered- yet ! The nearest likeliness image identified is that of William's grandson via his son Frederick Langloh Wilson and spouse Jane featured on this page.
MODERN MEMORABILIA – FROM OUR OWN TIMES
We might expect some of these items created over the past few decades will become of significance for future generations:-
# The Bonnie William from Dundee Story on DVD – produced 2005
# Faces –  a sentimental images montage of our 19/20th century forebears with musical background – produced 2005
# ORIGINS – Our 250 Year Wilson Family book – produced 2020, (in MS Word format for selected family line extension)
#
IMAGE GALLERY