Category: Charts/Galleries
This section of the site displays in various formats pedigree and descendant charts for the Wilson and some of the closely connected families. On the last sub-page of this section there is a nine generation descendants chart which shows all of the family members and details of their births, marriages, deaths and locations for these events to the extent they are known to our research group.
Below is a 3 generation pdf chart – click to open. It should be noted that the ten generations chart (presented on a separate page) contains the names of many living people; for reasons of privacy this is a locked file requiring password access. Access may be given to members of the family able to demonstrate their place in the family.
Descendants-of-John-Margaret-Wilson-3-Gens - PDF
This chart displays the origins of our Wilson family in Scotland as far as we know it as at 2014. The fate of the six children of John and Margaret, with the exception of John, have been discovered. Matilda died as a baby, George died as a young man, our William married Margaret nee Williamson and emigrated to Van Diemens Land, Ann married George Doig in Dundee, one of her chidren later emigrating to USA, whilst almost certainly Elizabeth married David Barrie locally and lived on in the Templehall/Drumsturdie area.
Header Box Image – this image has been adapted and extended from Michael & Tristan Wilson's 'Faces' audio-visual production DVD (see 'Text & Audio-Visual Materials' note on this Page). It is a magnificent montage created from the now quite large array of images which we possess of members from the breadth of Bonnie William & Margaret's family; it traces representatives from all arms of the family from the first arrivals in Van Diemens Land in 1820, to today – approaching 200 years of our history. Our thanks in particular go to Tristan for his skill and creativity in producing this excellent single image montage representation of our family's generations.
Our only regret is that we still have no image of Bonnie William, and must rely on the passed down story that his grandson Albert Williamson Wilson was very like him – Albert's image is included in the montage, and readers may read the story of their likeness elsewhere in these pages.
Edwin was the fifth of the eleven children of John Bowman Wilson and Agnes Eliza, and grandson to Bonnie William & Margaret. Details of the immediate families of Edwin & his spouse Annabella, and that of his son Albert...
Read More
Thanks to Mike Wilson and Mike's associate, artist Sue Hourigan, we are now able to see our forebear Margaret Wilson nee Williamson, so much clearer than ever before. Mike and Sue put their heads together and closely...
Read More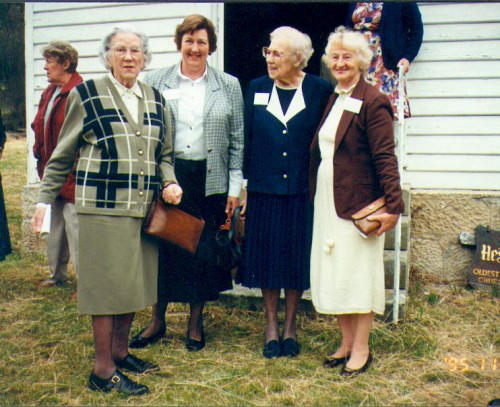 Our Research Group has over the past 20 years organised two group tours of the locations in...
Read More