Our Research Group has over the past 20 years organised two group tours of the locations in southern Tasmania where our family heritage and history commenced in Australia. The first in 1995 and the second in 2006 were each attended by over 40 members of Bonnie William and Margaret's descendants. Both were tremendously interesting and enjoyable occasions.
In addition to those more comprehensive tours smaller group visits were made in the preceding and intervening years to meet with members of the Tasmanian arm (the Frederick Langloh-Jane Stevens families) or to visit particular locations to research them in more detail. As we have alluded on another page the first contact with members of the Tasmanian arm was made by our much revered member Shirley Davies in 1994.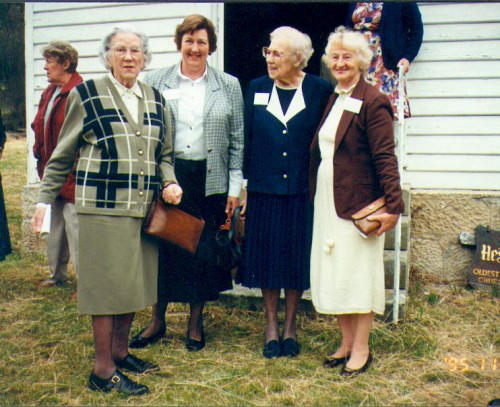 Locations visited during the first group tour were the former brewery in Davey Street, the former Supreme Court house building in Macquarie Street, Narryna Museum, Richmond Bridge, Hestercombe Cemetery & Church, the Mount Nasau farm property near Granton, and the Sorell Farm; the latter the farmland grant and homestead ruins where William and Margaret and family first lived as a family with children. In the 2006 tour we additionally visited the Gretna home of William Sorell Wilson and his wife Eliza Wilson and family (Clarendon on the Derwent).
The 1995 tour afforded the opportunity for the mainland contingent to meet and socialise with several of our Tasmanian arm cousins whom most of us had not previously met. Amongst them were several of the 'elders' of this arm; in the 1995 image above we see Shirley Davies (right) with three of the Tasmanians Molly Wilson, Dianne Hallet and her mother Kath Brown.
Since that time Molly and Kath have passed on. Molly, Kath and their cousin Madge O'May (who was unwell but attended Hestercombe briefly with her son – Madge has also now passed on) were absolutely delightful people and it was a great privilege for us to have met them. It was from they and one or two others, notably William Keith Wilson who attended at Hestercombe and Mt Nassau, all members of that generation that we gained much of the information and legendary stories of the three prior generations who lived their lives in Tasmania.
Both tours were occasions of great fellowship and enlightenment about our original family's beginnings in Australia. We present below a galleries of photographs from these tours which will bring back great memories for those who attended, and perhaps spark interest for another possible tour in the next 2 or 3 years. The first set below is from the 1995 tour.
The next set presented below are from the 2006 tour which was attended by some 35 of our Wilson clan – none from the Tasmanian arm on this occasion, but others came from NSW and Queensland. The top image shows Maree nee Wilson McQualter and husband Ken, from Bendigo, standing on Bonnie William's bridge over the Coal River beside the bronze plaque on which William's role is acknowledged