The first child of William Hartley and Margaret was a son whom they named William Sorell Wilson, was born in 1821 whilst they lived in the Pittwater region of Van Diemen's Land, where the village was named Sorell by touring Governor Lachlan Macquarie in 1822. The village and our forebear William Sorell Wilson were named after the then Lieutenant-Governor of Van Diemen's Land, William Sorell. Van Diemen's Land at that time was still part of the Colony of New South Wales. Later in his life our William Sorell wrote a little note, copies of which have survived in several arms of the broad family today which states he was the first child born in the Pittwater area and that his father was Colonial Architect, and 'a great favourite of the Governor'.
Together with his two brothers William worked with their father on the family farms, initially at Sorell, and from about 1848 at O'Brien's Bridge (Glenorchy today). He was married in 1856 to Eliza Wilson (not a related Wilson) daughter of William Borradaile Wilson and Grace Terry from nearby New Norfolk, and formerly of 'Clarendon on the Derwent', Gretna near Hamilton. Later that year William and his family together with brother John Bowman and family left Tasmania for Victoria and worked initially on the property of W J T (Big) Clarke at Rockbank.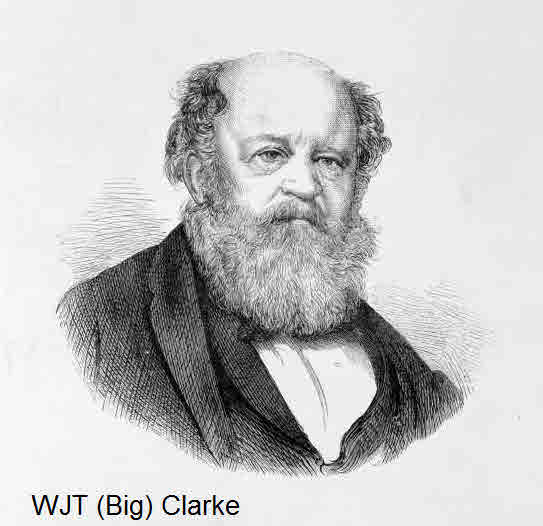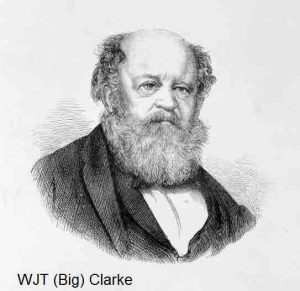 It seems clear that in Tasmania they had lived nearby (and possibly worked for) Clarke on his farm, with its mansion named Timsbury, near O'Brien's Bridge. Today's Elwick Race Course was previously part of Clarke's property. Clarke was a major property owner and the allegedly wealthiest man in Australia at that time – he came to own estates of many hundreds of thousands of acres in Tasmania, Victoria, South Australia and New Zealand. More about Clarke may be read here – A Note about WJT 'Big' Clarke
Whilst John Bowman soon struck out for the goldfields, William remained farming at Rockbank, and by mid 1860s had jointly leased a section of property from Clarke at Red Hill, near Truganina in partnership with a John Wake. After Wake's premature death, that partnership dissolved late 1860s following which William and family relocated to the Mornington Peninsula acquiring farmland in the Hastings/Balnarring regions. This map researched by Jennie Towan shows how William progressively transferred property to his children who variously ran cereal crops & sheep, and orchards. The son Frederick left the Peninsula for Western Australia and despite formal missing person searches was never heard of again.
William additionally established a corn merchant's business in King St Melbourne (possibly preceded by a similar business in Elizabeth Street) no doubt selling produce from his families' Peninsula farms; but it seems he didn't confine himself just to farm produce unless he was perhaps growing and supplying juniper berries from his farm because shortly after, Jennie Towan has discovered, he was in another partnership running a hotel nearby and not only running the hotel in a normal way but also clandestinely operating an illegal gin distillery in a nearby premises.
In due course the secret operation became not so secret – his premises were raided by the constabulary and he and partner (F. Harrison) were taken into custody, appearing before a magistrate who found them guilty and sentenced William to a very hefty fine of  £300 (about two year's wages for a labourer at that time) or failing that to serve a term of one year in gaol. It is not totally clear but it does appear William may have served some prison time before his fine was paid (by family members) and he was released.


After that experience William seems to have learned his lesson and stayed 'on the straight and narrow'. Perhaps the most interesting component of this story is that William and partner sold their gin labeled under the leading brand selling in Europe and England at that time – JDKZ brand – it is a Dutch product still the largest selling brand of gin in Holland today. They must have been able to arrange for bottles and label printing without alerting the authorities. In their defence they argued the still and all the other equipment found in the premises was for vinegar production, a novel defence as no still is required to make vinegar.
It was 'A nice little earner', as they say! And all of this we might take in a positive sense as an illustration of William's talent as an entrepreneur, but perhaps one involving a touch of hypocrisy when the ensuing is considered. The sad side of the story is that whilst engaged in these activities, and in police custody his wife Eliza is resident at Bittern and within days of the end of her life, her cause of death hepatitis. Jennie has produced a timeline of key events in William's life, which also connects closely with that of his brother John Bowman in relation to the Tuerong Park property.
Jennie's timeline may be read here – William Sorell Wilson Timeline
The Magistrates Court report is here – WSW Court appearance Argus 4 April 1870
A fuller account of William's life very professionally written by Jennie may be read here – William Sorell Wilson