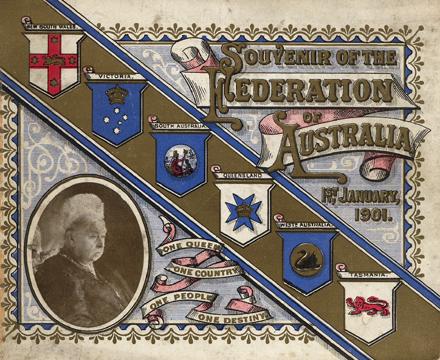 Following the unfortunate twice (COVID) aborted 200 years anniversary reunion planned for Hobart (2020 and 2021), The Wilson Family Research Group (TWFRG) decided to apply the modest surplus of donated funds towards wherever possible identifying and marking the gravesites of the first three generations of our family in Australia. The story of our progress in achieving this aim with images may be seen on this page These were our first Australians in the sense that most of them lived when Federation brought The Commonwealth of Australia into existence in 1901. Following from William & Margaret and their arrival in November 1820, and their three sons and spouses (William Sorell Wilson & Eliza nee Wilson, Frederick Langloh Wilson & Jane nee Stevens, and John Bowman Wilson & Agnes Eliza nee McDonald Smith), there followed the twenty six grandchildren born between 1852 and 1873. Nineteen of these, we shall dub them our 'Federation Aussies',  are known to have lived to witness the Australian Federation event of 1901. One, Frederick William Sorell Wilson, son of William Sorell & Eliza Wilson, emigrated allegedly to the Western Australian goldfields in 1894 and was never heard from again* – we can only wonder did he live to witness Federation from afar. Our Federation Aussies program involves our compiling comprehensive data record sets for each of these of our Wilson forebears. A great deal of data is already available as at April 2023, however there are no doubt inaccuracies which need correction and many gaps too. The three generations linked chart compiled from data held in the Family Tree Maker programme provides an initial record set which can be built upon. Fellow researchers who have their own collections of history records [see footnote] are invited to assist by checking against this set and advising of any anomalies.
The Families of William Hartley & Margaret Wilson – Three Generations Chart
INTERMENT LOCATIONS SUMMARY (includes first generation spouse parentages also)
# First Generations – William Hartley & Margaret nee Williamson Wilson; William & Agnes nee Smith McDonald; William Borradaile & Grace nee Terry Wilson; David and Mary Stevens
# William Hartley & Margaret Wilson, and, their second son Frederick Langloh Wilson and spouse Jane nee Stevens – are interred in a common grave at Hestercombe Cemetery, Austin's Ferry, Tasmania. The Hestercombe grave is maintained by the Tasmanian arm of the Family, descendants of the FLW/JS union.
# William (Captain) McDonald was interred at the Hill Street cemetery in Hobart, but after cemetery closure was part of a mass exhumation and re-burial in the Cornelian Bay, Hobart cemetery but in a mass grave concrete covered. We are advised it would be possible for a commemorative bronze plate to be attached to the mass gravesite with details of William's death, and life. Agnes Smith died in 1864 in Mornington and is interred at Mornington cemetery (to be confirmed – she may be interred in Tasmania).
# William Borradaile Wilson who later in life went to the Victorian goldfields died and was interred at Maldon cemetery. His spouse Grace Terry is interred in New Norfolk cemetery, Tasmania ?
# David Stevens and his spouse Mary nee ………… are interred in the ………………. cemetery Hobart.
# Second Generation** – William Sorell & Eliza Wilson; Frederick Langloh & Jane Wilson; John Bowman & Agnes Eliza Wilson. William Sorell is interred at Tyabb/Hastings cemetery in Victoria; his spouse Eliza is in the nearby Mornington cemetery (see images below). John Bowman & Agnes Eliza are also at the Mornington cemetery their recently renovated site shown here.
# Third Generation
# Children and Spouses of William & Eliza** – William Frederick Wilson, Margaret Williamson & John Niven, Elizabeth & James Boulter, Ella Mitchell Wilson, Jessie Williamson & William Ison, Frederick William S Wilson, Jane Turner Wilson, Albertha Sydney Wilson, Adelaide Ellen & Claude Graves.
# Children and Spouses of Frederick & Jane** – Albert Williamson & Emmeline Elizabeth Wilson, William Hartley & Rhoda Wilson, David Stevens & Isabella Byers Wilson, Margarette Jane & George Boys Albury, Rosalie Mary & Thomas Hay, Lillian Langloh & Frank Roussell Dixon.
# Children and Spouses of  John Bowman & Agnes Eliza** – Margaret Williamson & Harry Woodhead, William McDonald & Emily Matilda Wilson, John Frederick & Amelia Wilson, & Helen Warner, Agnes Eliza Wilson, Edwin & Annabella Rosa Wilson, Albert Edward & Ann Elizabeth Wilson, & Frances Ryan, Arthur & Elizabeth Wilson, Ellen & John Wilson, Charles & Georgina Avice Absalom Wilson, Herbert & Sarah Agnes Wilson, Agnes & Alfred Cavell
[Footnote – For this repository to be of value it ideally requires primary reference documents, ie, actual copies of B, D, M, Divorce and Baptism certificates, likewise Wills, Probates, Inquest or Coroner reports, Court Documents. Acceptable secondary material could come from accredited digital records such as the MacBeth Pioneers Set, and the similar Digger Set. Other acceptable secondary material would be references to formally published articles, books, manuscripts, etc. Submitted documents need to be in pdf or doc, or jpg, bmp, formats and clearly identified with who, what, where, etc. Relayed verbal references can be useful as a guide re where and what to search, but are not credible on their own].   TO BE CONTINUED