[This page still under construction as at 11-9-23]
A COMMEMORATION PROGRAM WITH LOCATION, MARKING, AND RESTORATION OF THE RESTING PLACES OF WILLIAM & MARGARET, THEIR 3 SONS AND SPOUSES, AND 26 GRANDCHILDREN – THEIR 'FEDERATION AUSSIES'
****************************************************************************************************
Not to be deterred with the unfortunate cancellation (COVID19) of our 2020/21 200th anniversary celebrations our Wilson Family Research Group (TWFRG) defined a new programme to recognise and celebrate several major events in our forebears lives commencing with their arrival on the barque Skelton in November 2020, to birth of their first child William Sorell Wilson after settling at Sorell (then known as Pittwater) where they had received a high quality land grant, and where they established their initial farm homestead, and during the subsequent decade had 2 more sons, Frederick Langloh and John Bowman.
The programme commenced from September 2020 with production and distribution in time for the November 27th anniversary date of two items of memorabilia, the 108 page full colour booklet 'Origins – Our 250 Year Story', and the commemorative Medallion Set noting Skelton's arrival in Hobart. Click on these links to view these items —>  MEDALLIONS       ORIGINS – Cover Page  
The next component of our commemorations involved restoration, burial plot marking, and simple graveside ceremonies at four locations of importance to the Family  – Hestercombe cemetery in Tasmania, and, Mornington, Campbells Creek and Tyabb/Hastings cemeteries in Victoria. The Header Image above records the ceremonial placement on the grave of William & Margaret of a wreath and the ancient Wilson Tartan. Further images from the Hestercombe gathering are presented below, the set following showing our cousin Jane Wilson's 8 year old grand-daughter Chloe participating in the ceremony laying wreaths on the graves. Chloe is a 6th generation grand-daughter of William & Margaret.
These ceremonies honoured three generations of Family members – at Hestercombe, William & Margaret, and their second son and his wife, Frederick Langloh Wilson and Jane nee Stevens; at Mornington, Eliza Wilson (of the William Borodaille Wilson, Grace nee Terry family) wife of William Sorell Wilson; and at Campbells Creek little three year old Agnes Eliza Wilson daughter of William & Margaret's third son John Bowman and Agnes Eliza Wilson.
The Hestercombe cemetery burial plot and surrounds had been renovated together with surrounding landscaping work of grounds and trees rendering it a very peaceful and pleasant environment. Those attending are shown below, l to r, Les Batchelor, Jane Wilson and Chloe, and Ian & Anne Watchorn, family friend Chris Merridew on the camera.
The Mornington and Campbells Creek burial plots were previously unmarked so as part of our Anniversary graves restorations plan, polished granite plaques were produced and installed with attached stainless steel laser etched memorial texts – see below.
Those attending the Mornington ceremony were l to r – Max & Jennie Towan, Brian McClelland, Glen McClelland, Jenny & Howard Brown, Bronwyn Wilson, Jeanette Eastland, Julie Scott, and Shirley Davies – Mike wilson on the camera. Shirley led the little ceremony around the newly laid plaque honouring Eliza. Eliza very sadly died of hepatitis at Moorooduc aged only 40 leaving behind a young family of six children.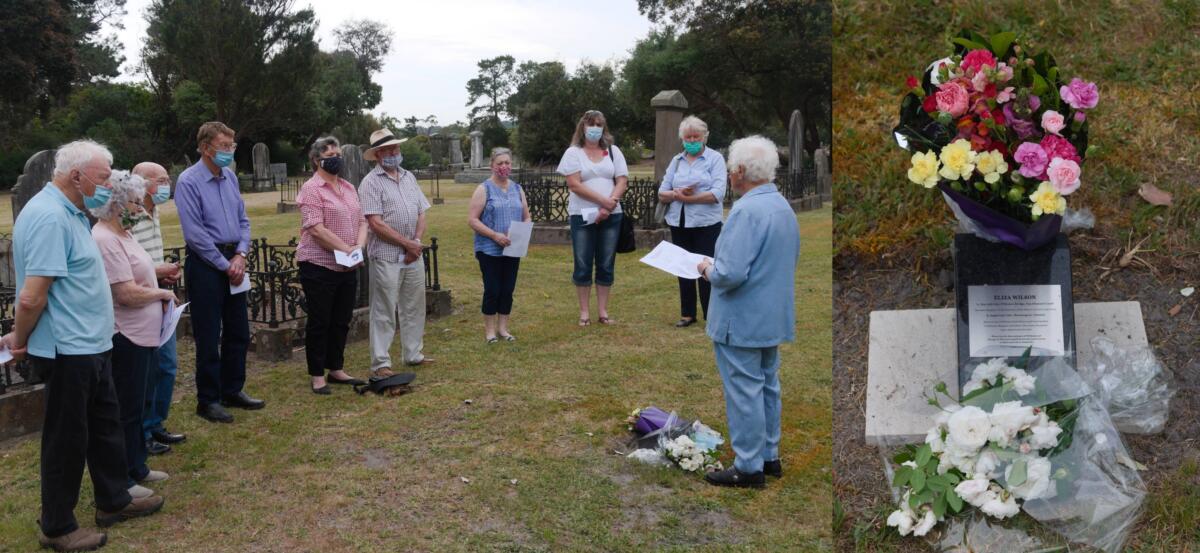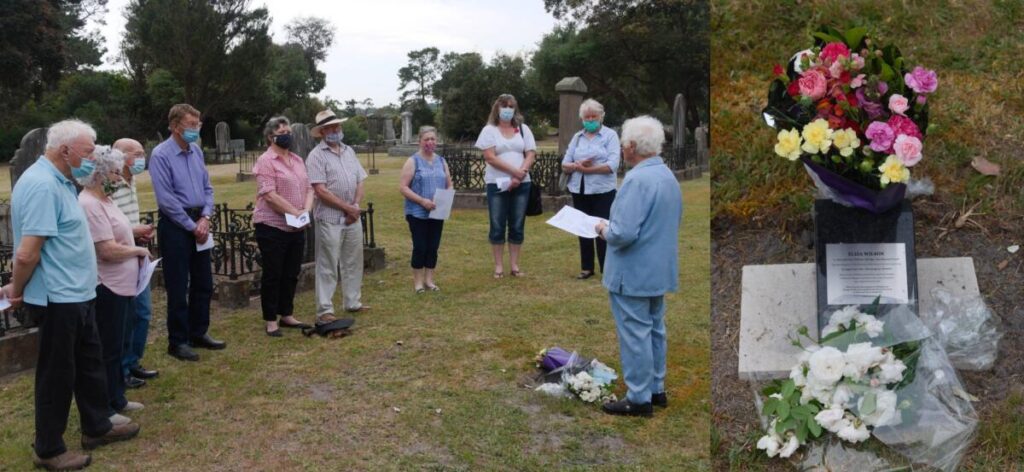 At Campbells Creek a similar short ceremony took place at 11 am November 27th, those attending shown in the image below, l to r – Margaret & Robert Scott, Jenny Brown, Mike & Bronwyn Wilson, Laurie Wilson, Howard Brown, Irene & John Wilson, Alan Davies, Shirley Davies and Debra Tranter (Chair of the Castlemaine Cemetery Trust). A further image of this group is in the Gallery below. Following the ceremony the group picnicked at Vaughan Springs.

Baby Agnes Eliza, named after her mother, died at the Table Hill goldfield of croup aged only 2 years and 9 months, one of hundreds of the very young lost to the epidemics of the time on the fields. Debra worked intensively with Shirley over several months searching out the details of Agnes Eliza's death and interment ultimately discovering her grave was still a single use plot in the midst of an expanse of graves of other little children who had met similar fates on the goldfields.
Castlemaine Cemetery Trust Chairperson Ms Debra Tranter in welcoming our group at the cemetery for our commemorative service enlightened us with a most interesting historical talk about the Campbells Creek facility. Debra's commentary is attached below.
Late in 2022 renovation of the John Bowman Wilson/Agnes Eliza grave at Mornington cemetery was carried out compliments of Shirley Davies and her brother Glenn, and an external contractor – a before/after image is presented here. The restoration comprised scrubbing of the headstone front and rear, repair to a section of fractured wrought iron fence, installing perimeter strips, and laying of white quartz screenings, and painting of the fence.

A further renovation project carried out early 2023, was of the set of three graves of the William Sorell Wilson family at the Tyabb/Hastings cemetery. Once again Shirley and Glen were the outstanding volunteers who undertook most of this work but supported in the final spreading of white quartz screening by several others of the WSW and JBW arms of the family. A gathering of both arms paid their respects at the graves early May 2023 – present were Shirley and Glen, Jennie Towan, Jenny & Howard Brown, Jenny & Tom Gould and their daughter Karen, Robert & Margaret Scott, Julia Scott and Daniel, John Wilson, Laurie Wilson. This image records the occasion. Howard and Daniel took photographs.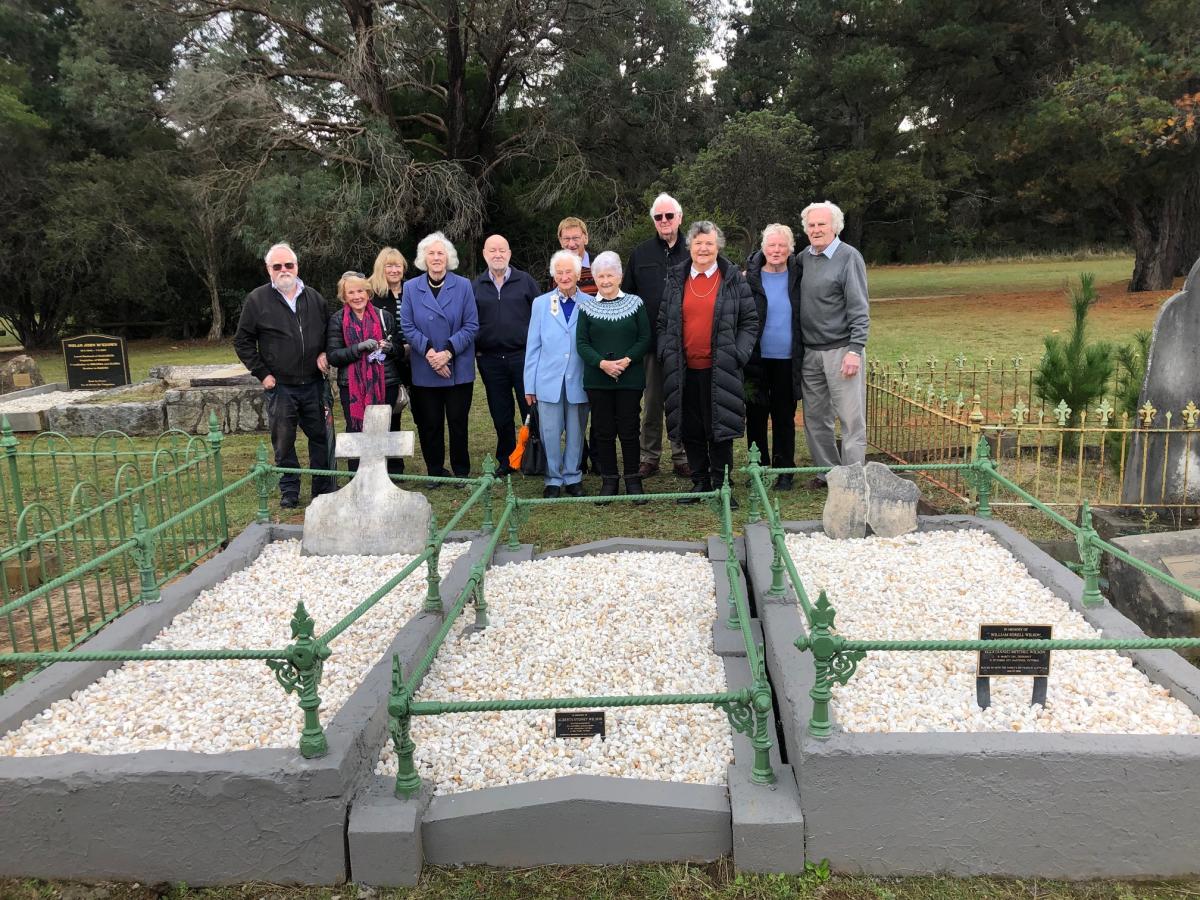 The three completed plots from right to left are firstly the grave of William Sorell Wilson and his unmarried daughter Ella (Annie) Mitchell Wilson, the middle one is that of Alberta Sydney Wilson, the third on the left is that of William Sorell's daughter Jessie Williamson Ison nee Wilson. Images of the bronze plaques placed at the foot of the right and middle plots are shown here – the headstone being that on the left side plot of Jessie Ison.

It is the aim of TWFRG to continue identifying and marking graves of our Federation Aussies wherever possible in the years ahead.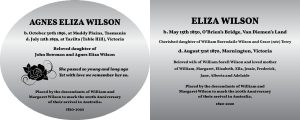 Ms DEBRA TRANTER – Cemetery Commentary