Local historian Peter Ward (seen here) has researched and produced an outstanding account of the history of the Tuerong property which might, had circumstances been very different, have been 'ours' to enjoy today. Peter's work may be seen via this link to a Dropbox site – scroll to the bottom of the link page to open and read the Tuerong story.
Peter's own families, the Nutchey and Wards had tenure on the property and he lived on adjoining land in his youth.
An outline of our earlier and subsequently revised understanding of the 640 Tuerong Pre-emptive Right (TPR)  and our Wilson family's ownership and occupation during the latter half of the 19th century is set out in the preceding page -'Teworing on the Checkinkurk Creek'. Also presented is an array of maps showing precise locations of the two 'Tuerong' properties.
Apart from the question of our Wilson family's period of tenure and their homestead's location, Peter's work presents a very different picture of the quality of the TPR land and its economic history for the successive series of owners and occupiers, our Wilsons included: as he describes it, a record of financial failures, insolvencies and heartbreak.
A segment of Peter's header page is reproduced below. Kindly note the caution relating to copyright.
Peter's opener comment describes it thus-
'A memorial to all those who broke their hearts on that "wretchedly poor" country that was Tuerong.'
'A look at two families, Nutchey and Ward, farming "Tuerong Park", "Tuerong", and "Hadlow" covering the years 1938 thru 1975. Includes notes of other families, and early maps.
These notes put a human perspective into one era of its constantly changing ownership list. Those eulogising advertisements as far back as 1880 declaring Tuerong land to be "rich", "ideal for dairying" were, in fact, total falsehoods, real only to the purveying agents. The truth is, Tuerong land consists of the poorest of sandy, washed out podzols. This country has bankrupted more than it has prospered, even enlightened hard working families that knew farming. Instead of just an ownership list, meet Nutchey, Niall and Ward. And not to forget Ruddell, Wilson(s),Crook, Pitt, Matthews, Andrews, Dobie, Clark, Moore, Richardson, Paton, Edgar, and Kerton, all genuine people who struggled with the money sink that was the Tuerong pre emptive right.
In researching these notes, the location of the earliest huts on Tuerong needed resolving.  I now add a reasoned speculation on a location for Mrs Thomas' hut and aboriginal encampment, and pinpoint one of the Tuerong Waterholes. There is commentary on the 1890 proposed railway extension through Tuerong, and a whiff of suspicion that land speculation may have been the reason for the chosen route. This "center of the Peninsula" railway extension, Baxter's Flat to Merricks has been neglected by Peninsula historians, and deserves more study. The controversial proposal set the location of Merricks well to the west of its actual position.'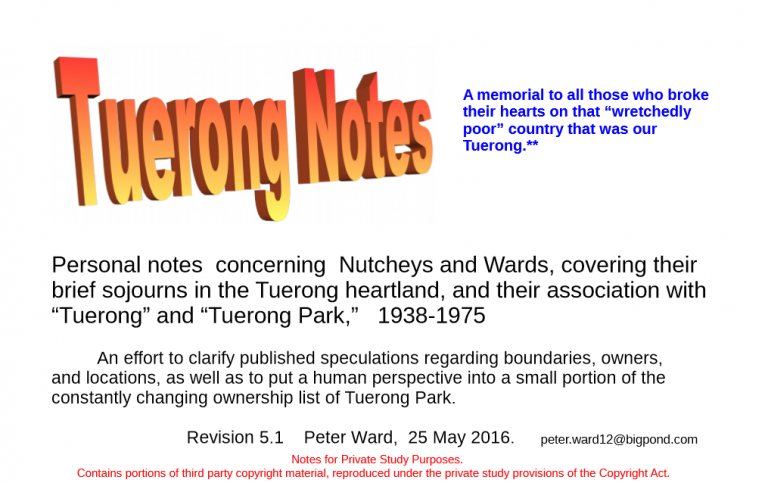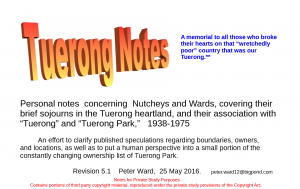 The primary farming activities during that early period were sheep and cattle grazing, and cereal cropping, and the results for all the toil that entailed, financial ruin: a far cry from the many successful viticulture activities which are pursued there today, most of the original 640 acre area and a great deal of the surrounding acreage, indeed large parts of the Peninsula is now given over to wine production.
Well, it seems as if 'we' had the right land but the wrong crop !, and here's what we should have been growing. One wonders was it possible that 'we' were teetotallers so alcoholic pastimes could never be on the agenda – John Bowman's mother Margaret had a reputation as a strict Presbyterian for whom such pleasures were anathema.
But it's not too late – we can still enjoy the fruits of our old Estate with lunch and a lovely glass of wine at Dromana Estate today – see it here.
Peter's research discoveries inspired him to compose a rather melancholy poem highlighting the heartache which Tuerong brought so many in their tenures, our family amongst them. It should be read in conjunction with his full research document to fully appreciate. Written through the eyes of Agnes you may read it here – AGNES DIARY_V2
A further poem penned by Peter ("Sheepsick and Hungry, Exhausted and Dry"), commenting on the difficulty of the property for all its owners during the 19th century may be read here. Tuerong Poem
An image of the Dromana Estate centre is seen below – it displays the building as it was for sale in 1954, and as it is today as Dromana Estate. Both original settler Thomas, and our own family's homestead were on this location – it is not known if any components of the original homestead remain as part of today's building.
Also appended here is a condensed set of notes and images about Tuerong and our Wilsons place in the story. It traces through the succession of tenures from the earliest settlement by the Thomas family, and the history of the various homesteads and farm properties which emerged there over some sixty years. Tuerong – Notes & Images