No certain image of Captain William McDonald's ship Britomart has yet been located – it had previously been a Royal Navy Brig-Sloop warship which saw Royal Navy service between 1808 and 1819.
Charles Darwin's exploration vessel HMS Beagle was of identical design, its image depicted as it sailed through the Magellan Straits is displayed below. Detailed plans of the Beagle are shown below, allowing us to imagine how Captain William and family travelled. No doubt Britomart would have undergone some refitting to make it more suitable for commercial passenger use – upper inside decks for cabin passengers, lower decks for steerage passengers and storage, with single male and single female quarters to fore and aft, and married/family quarters in between.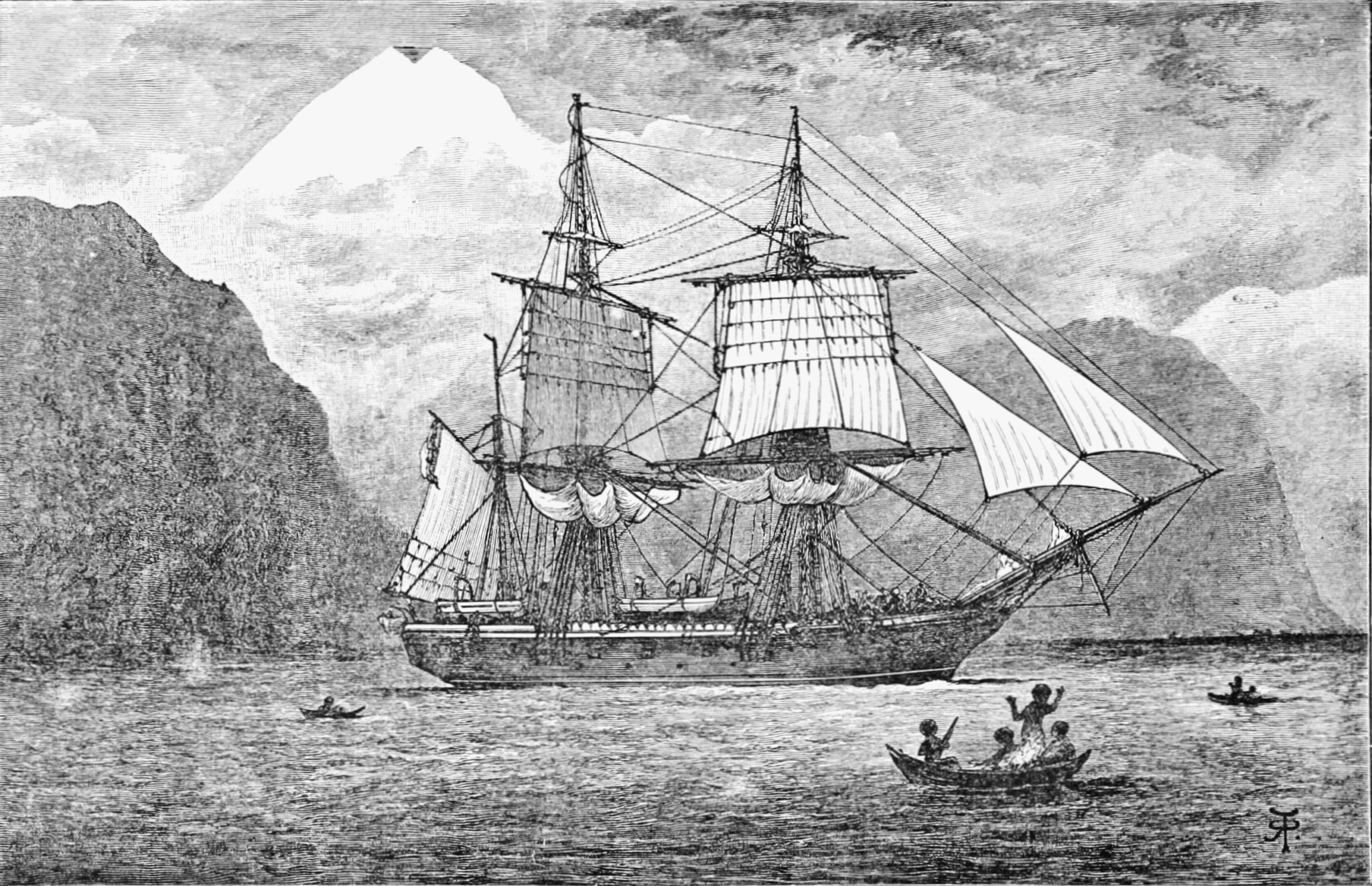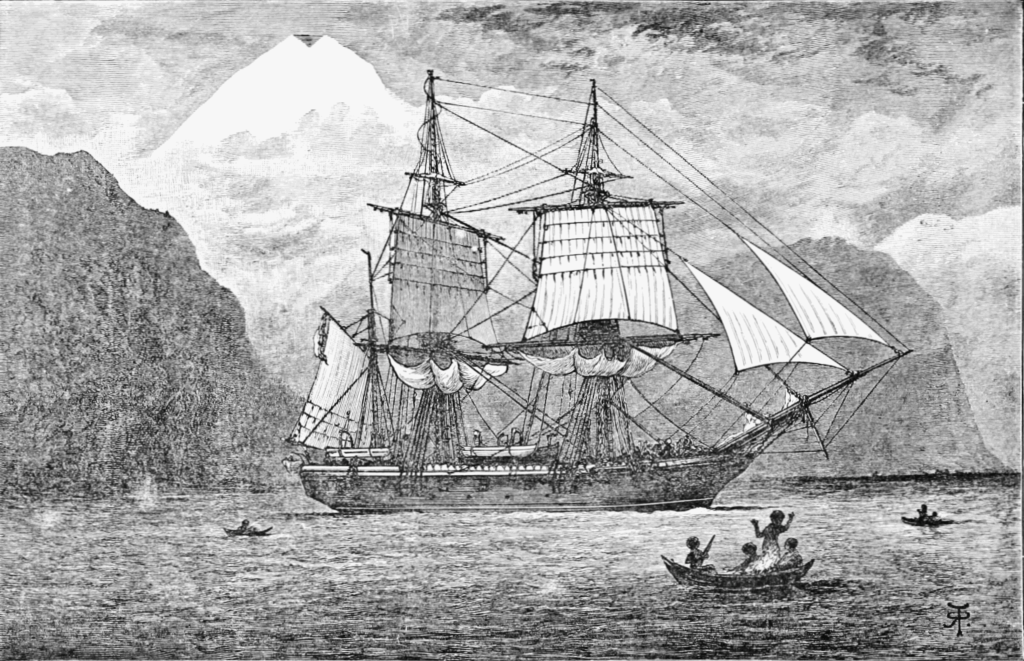 Arrival in Hobart – Captain McDonald and Agnes were in Tasmania since arrival there on Britomart in 1834. Between then and 1836 William had been busily sailing the ship on local voyages between Hobart and the mainland: to Sydney but more often to Two Fold Bay (Eden) carrying passengers, livestock and general merchandise. (Britomart had made a visit to Hobart in 1822 however neither William nor other of his family members were listed amongst crew or passengers).
What prompted a return to England – particularly so soon after having already suffered the risks and privations of a five month confinement in a small vessel on the high seas, and with his family once again aboard with him. It is unlikely, that as we might do today so easily, to have been motivated by a desire to take a vacation and perhaps just drop in on the cousins back home for a few days – all that, we may do these days with 24 hours each way travel with little risk.
There must have been some really pressing reason to compel William and Agnes with their daughter Agnes Eliza** to venture back home so soon – a voyage which if all went well had to mean at the minimum almost a year of absence from Hobart, assuming it was their intention to return. And return they did almost three years later – records of the 1834 and 1839 Hobart arrivals may be seen here. Britomart Arrival Records 1834 and 1839
In the research which members of our group have uncovered over the past 10 years two reasons have emerged which most probably explain William and Agnes' initiative for the voyage – reasons which were related to business, and personal motivations.
The first item came from Jenny Gould's investigation, during a visit to the Falmouth locale in England, into William's origins which discovered evidence that he had been previously married- whilst not absolutely confirmed, it has an excellent fit and appears likely. Jenny reported as follows –
Sometime around 1810 it is possible that William married.  The only McDonald marriage that has thus far been found is as follows:-
William McDonald married Mary Rowe 15 of July at Falmouth in 1810. We know that William joined the Packet Service at Falmouth, so hopefully this is the correct one.
Only one child has been found – William Henry McDonald b.23 June 1812 Falmouth, c.25 June  1812 Falmouth. As this child was christened William it does give some hope of it being the right one.
This would explain (and further confirm) why it was that William and Agnes relationship was what today would be called 'defacto', to all intents and purposes married but never formalised officially. The evidence for this is to be found both in declarations in William's 'Last Will & Testament', in media reports of his death in Hobart, and also in Glenden Andrews discovery of evidence of Agnes Eliza's christening in the Saint Mary Major church in Exeter, England, as Agnes Eliza McDonald Smith, not McDonald.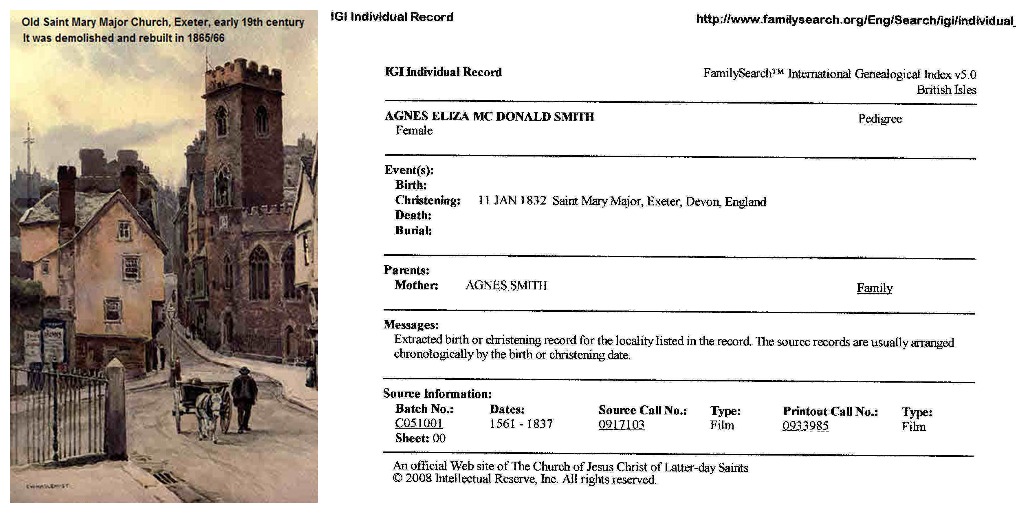 These circumstances alone could be a reasonable explanation for their sailing back to England to perhaps sort out William's marital circumstances maybe including an attempt at divorce or annulment; and perhaps enter some sort of arrangement for the alleged son from a union with Mary Rowe; perhaps he owned property in Falmouth or in that area, even inherited from his parents in St Ives. Plenty of valid circumstances in all of these items.
The second reason emerged during recent research (2018) regarding ownership of the Britomart. It had been assumed that William owned Britomart when he sailed it to Australia in 1834; but this has been shown not to be the case when tracking recorded ownership details from Lloyd's Register of Shipping (and confirmed in Australian published records of shipping arrivals/departures). See here – Britomart – A Summary History
This research has shown that ownership of Britomart passed to William sometime after he sailed for England in 1836 and prior to his return to Hobart in early 1839, no doubt after arrival in England, therefore during late 1836 and 1838. On return to Hobart he transferred the registered home port of Britomart from London to Hobart (ref. Lloyds).
We might therefore, not unreasonably, speculate that William having commanded Britomart from early 1834 through 1839, which period whilst in Australian waters included many coastal trading voyages, presumably profitable voyages, recognised an ongoing maritime business opportunity, which might be even further enhanced by ownership of Britomart.
To achieve that goal he may have been obliged to return to England to negotiate acquisition. He may also have recognised an even more fruitful opportunity in sale of Britomart on return to Australia – maybe he even had a lucrative deal in place before sailing back to England. As it happened he sold Britomart to Captain Gluyass in Port Philip late December 1839.
The Samuel Viveash Diary –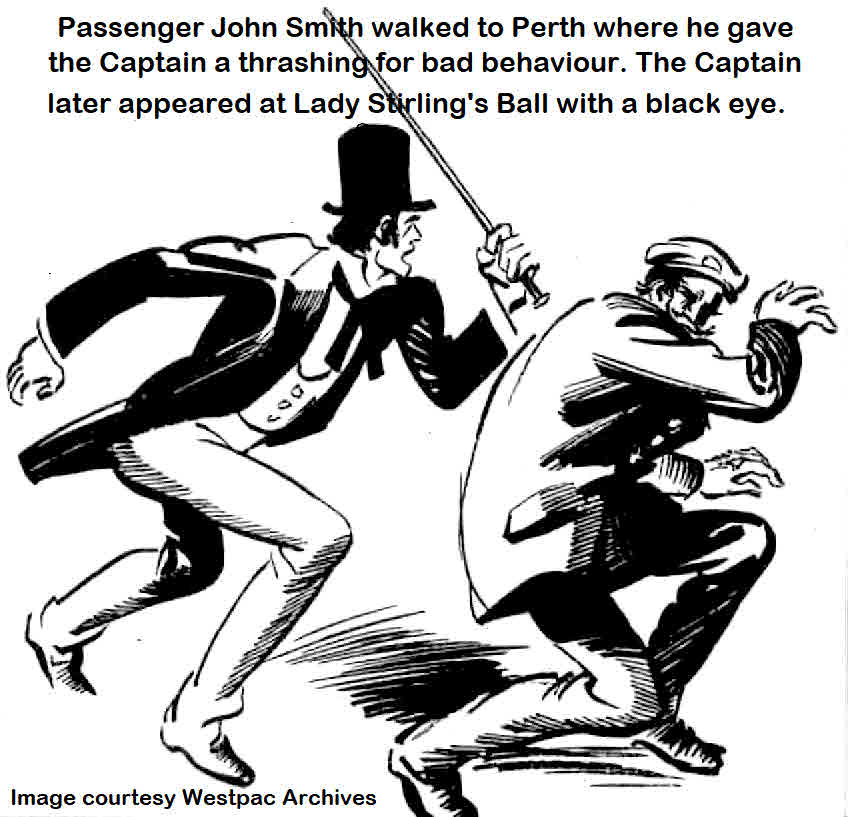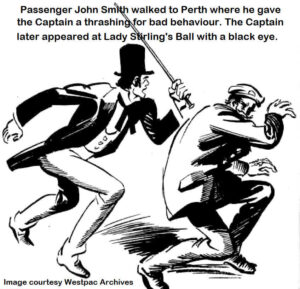 Read in the links below about Captain McDonald's experiences during his 1838 voyage back to Australia via the Western Australia port of Swan River (Fremantle); notably during his temporary stay at Swan River his attendance at the Governor's Ball sporting a recently acquired 'black eye'. The Captain had earlier received a thrashing whilst in Cape Town from another passenger who was also angry at the his poor behaviour towards the passengers.
An article from the former Bank of NSW's 1957 Etruscan house Newsletter including this image was provided courtesy of the Westpac Bank Archives, and may be read here – Viveash Etruscan Article.
A copy of the original 51 page Viveash Diary (courtesy of the Royal Western Australian Historical Society, and, the State Library of WA) may be read via Dropbox Link – here
Further media reports concerning Viveash, Captain McDonald, and Britomart's return voyage are presented here Viveash-McDonald-Britomart Media Articles 1927-1939-1940
William continued to accept engagements in command of several other coastal passenger/cargo ships in the several years after sale of Britomart. He died in Hobart in 1846. Eliza died in 1864. Both were interred in the Hill Street Weslyan cemetery. We understand some time after this cemetery was closed all bodies were exhumed and re-interred in a mass plot at the Cornelian Bay cemetery near Hobart – unfortunately there are no markings.
As to Britomart, for Captain William its sale was perhaps fortunate – on its first voyage with Captain Gluyass it foundered on Clark Island in the Furneaux Group, Bass Strait, with the loss of all on board.
This link elaborates on the demise of Britomart from official and media records it's a sad story indeed possibly involving piracy and murder – The Britomart Reports
To this must now be added the most recently discovered material (researched by our cousin John Wilson in 2020) which expands considerably on what appears likely to have been the murderous destruction and pillaging of Britomart. John secured these reports from Ms Jaydeyn Thomas, Co-ordinator of the Bass Strait Maritime Centre in Tasmania –
Britomart Story 01        Britomart story 02
** Note – Viveash's diary makes at least one reference to Mrs McDonald, Captain's wife, being on board but no reference to baby Agnes Eliza. We have separate evidence of Agnes Eliza's presence on the 1836/39 voyages in a hand-written note on an old family photograph which mentions her 6th birthday being celebrated on board during the 1836-39 period. Shirley Davies recorded what was written on that photographs rear side whilst Laurie Wilson saw the photo and handwriting in a visit to Jean McDougall's home during the mid 1980s.
Unfortunately the photo and writing have not yet been located in the considerable collection Jean had which following her death have been distributed around her family. A copy of Shirley's record is shown here. The reference to Arthur suggests it was most likely a photograph of him on which it was written – August 3, 1863 happens to be Arthur's birthdate, a fact which the original writer of the note was probably simply recording. Agnes Eliza turned 6 on December 3, 1837 indicating Britomart was mid voyage to England.