Just who was this bloke with the super fanciful name – and how does he come to become an associate of our otherwise upstanding Wilson family. Well, it's a long story which has taken some 56 years to unravel.
It's said that every family has a villain or two, and we are no exception with Tom (as he was apparently called within his Smith family) filling the bill as number one public villain of our Wilson family story.
Tom's 'felony' – he absconded with the pride of place heirloom of our family – the Gold Handled Ceremonial Sword (pictured below) of our illustrious (perhaps even swashbuckling ?) master mariner, Captain William McDonald, awarded to him for bravery under fire in an infamous incident on the high seas in 1814.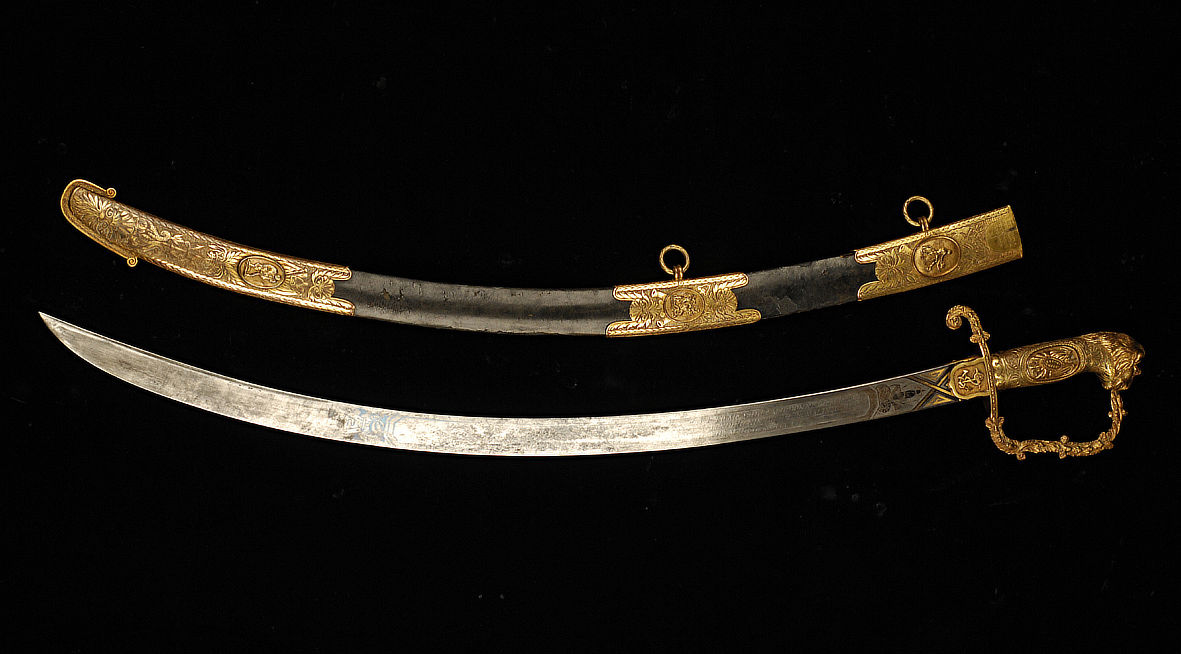 Captain McDonald's stories may be read under the several headings on the Stories mainpage of this site.
But, who was Tom ? – we have tracked his Smith family in some detail and his family's tree is set out on the 'Family Links' page (Protected: Secure Research Page) which for Privacy reasons is a closed page requiring a password for access. Access is available for Wilson family members active in family history research and those members active in support.
We have highlighted in green the key players who were involved in the sword 'dispossession' – Tom gave the sword to a Smith nephew who sold it to Bonham's in Sydney. In a way, we could say these folks did the broader Wilson/McDonald family a real favour in that the 'lost' sword re-emerged and found its way into a public place where, as distant as it is,  present and future generations are now able to visit and view it.
Also Tom's third wife Elsie nee Ferguson and her large family from a marriage prior to that with 'Tom', is shown here. Baden-Powell Smith – wife Elsie Ferguson nee Street
And what of his name – Robert Stevenson Baden Powell Smith – quite a grand sounding string indeed. We have theorised as to why he has such a name in this way – the Baden Powell we think is named after General Baden Powell (also of Boy Scouts fame) who led British troops in the then very famous 271 day siege battle of Mafeking in 1899/90 in the second Boer War. It was a vital battle in the war and to its victory is attributed the turning of the war in favour of Britain.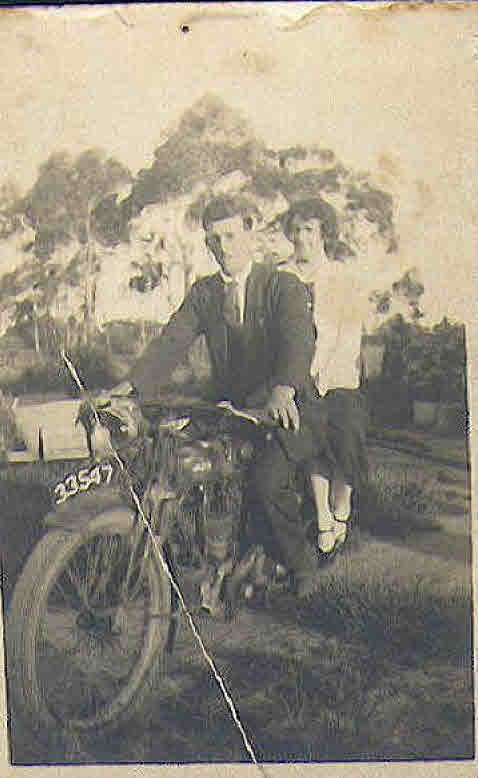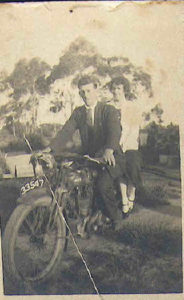 It was celebrated grandly all over the British Empire of the time, with celebratory dinners and marches and grand speeches by Governors, Prime Ministers in all the Empire's outposts. Final victory was declared on May 17, 1900 with surrender of Boer forces in the town of Mafeking, South Africa. Coincidentally Tom was born with a week or two of this celebrated victory and it seems reasonable to believe his naming was in honour of the General in command. As to the 'Stevenson' it is probably a family name from his maternal lineage.
An unfortunately very poor resolution image of Tom with his first Wilson wife, Nellie, on his motorcycle is seen here. It is the only image we have been able to identify of our friend Tom so far. At some point it might be possible to secure a better image from his family descendants. 'Tom' died at Wangaratta in 1969 and is interred there with Elsie.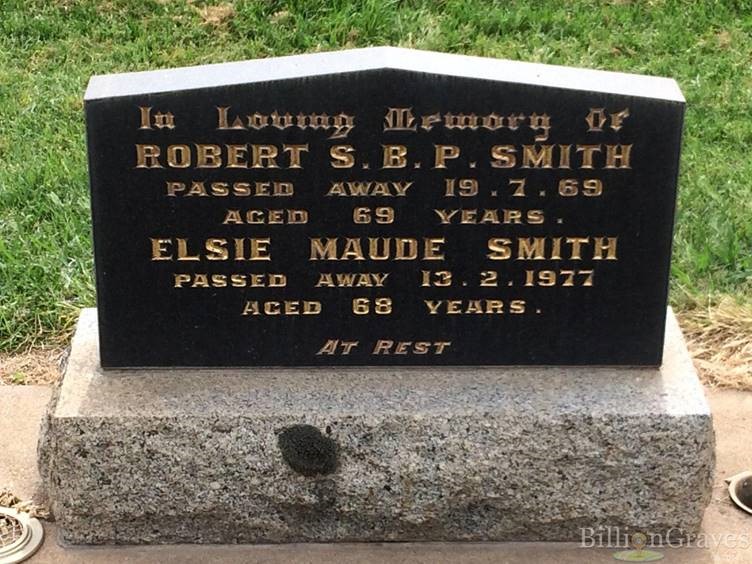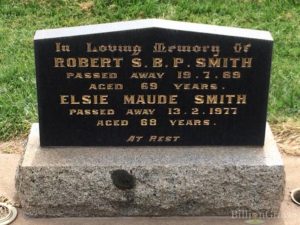 When Tom's whereabouts was searched out back in 2009 there was no headstone at Wangaratta – sometime between then and 2019 a headstone was installed – we wonder who would have attended to this – no doubt either the Smith or the Ferguson family members. We note having disposed of the gold handled sword, Tom did end up with a gold inscribed headstone!