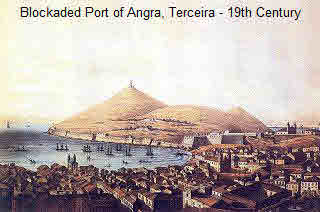 The Terceira Blockade: Captain McDonald was certainly an adventurer in his exploits at sea. His death notice makes reference to his having participated in the blockade of Terceira (Azores) involving British forces during the so called 'Liberal Wars' of the Portugese Civil War of 1828 to 1836. Captain McDonald's Obituary
The obituary reference appears to be the only record of his involvement, that exploit having apparently been lost in the lore of our Wilson family. A little research has dug out the pertinent facts of this conflict and the part the British played in it, and by implication the presence of Captain McDonald and we may reasonably conclude his merchant schooner 'Good Intent'.
Perhaps, as history shows was often the case in these sorts of circumstances, William made excellent profits on this dangerous venture – sufficient maybe (as we assumed – incorrectly for that date, but not for a later date) to grade up from his much smaller schooner of 92 tons, to the full size barque sailing ship Britomart of 242 tons, immediately prior to sailing to Australia in 1834.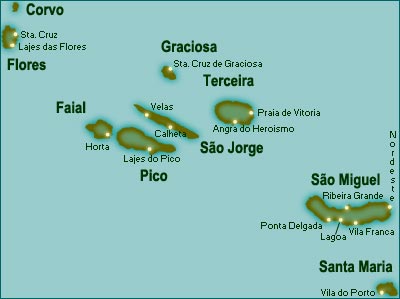 By way of background this record from Wikipedia tells us what the conflict was about. The link following is an excerpt from a historical source document 'Tales of the Wars'. We have highlighted certain of its contents to illustrate the British involvement – they were not belligerents, rather they were there in order to protect British commercial interests. We might reasonably conclude that Captain McDonald was there to advance his own commercial interests. The story makes interesting reading of the plots and subplots of all the parties, neutrals and belligerents, who participated.      The Blockade of Terceira by Dom Miguel 
The Good Intent & the Captain's 'Other Wife': Cousin Glenden Andrews during a trip to Europe in research on our famous Captain of Gold Handled Sword fame discovered some very interesting new facts about him and his maritime experiences.
In her visit to Falmouth to view our sword, Glenden secured the support of the Falmouth Maritime museum staff to search out information about William's connection with the ship Good Intent, on board which in 1831 in Antwerp harbour his 'daughter' Agnes Eliza McDonald Smith was born.
Now quoting from Glenden's report on her discovery –
"I also got the Maritime Museum in Falmouth to do some research for me and re the 'Good Intent' – she was a 92 ton schooner** owned by Capt. William McDonald and others. After Nov 1815 my researcher found no other references to Capt. McDonald in the museum library and assumed he left the Packet service about that time. However, he mentioned that a search of the records at Truro may find some references to him. (Has anyone already been to Truro and searched these records? There's quite a big gap between 1815 and 1831.")
There certainly is a very big gap between those years; and it has been most interesting for us to learn at least some part of just where and what Captain McDonald was up to over that time. And who were the others who shared ownership of the Good Intent: we know his father was also a sea Captain – so whether it was a family owned ship at that time is one question of particular interest.
In more recent research, a study of Lloyds Register of Shipping has shed further light on these questions. It has become clear that William's father and it seems a family owned shipping company, did in fact own Good Intent. In the period from its construction and launch in 1816 (which appears to have taken place in one of the Canadian Provinces – Nova Scotia, Newfoundland or New Brunswick) we find when it first appears on Lloyds Register (1826) it is initially owned by a G. Ord & Co., but that by 1829 a Captain John McDonald is its Captain, and it is recorded as being owned by the Captain & Co. – it is reasonable to believe this is William's father, who we know was a ship's captain and whose name was John McDonald (of St Ives, Cornwall).
The Lloyds Register set from 1829 to 1833 is seen here – Lloyds Register Set
We might even speculate that the Ord Company was the McDonald family's shipping company, but we have no real evidence of this. Thereafter through to 1835 the Good Intent remains under Captain McDonald (but no first name initial mentioned – so John or William ?), but from 1834 no voyages are listed as they are in all previous years. Indeed, the record suggests that Good Intent was through most of 1834 and 1835 simply tied up in Falmouth Port – in mothballs so to speak.
As we are aware, William and his family by mid 1834 are on board Britomart enroute to Tasmania – so all of these events seem to fit together. Then from late 1835 the Captaincy and the ownership of Good Intent changes, and the home port switches from its long standing Falmouth, to Faversham on the lower Thames Estuary. Faversham today is only a minor small boat estuary port although apparently historically a very busy one as this report indicates.
Good Intent was active through all this period as a coastal cargo/passenger vessel around Britian, and which also ventured to various coastal ports of Continental Europe (such as Amsterdam and Antwerp) and also across the Atlantic occasionally to Canadian ports, and as indicated previously south in the Atlantic to such as the Azores motivated perhaps by forms of 'prize money'.
One of the more interesting revelations from the Lloyds Register was the discovery of Good Intent from its home port of Falmouth visiting Liverpool – there was no previous record of such a voyage but she was apparently in and out of Liverpool during 1831 and 1832 – might we reasonably suspect there was a reason for these visits beyond that of shipping trade – and that reason we might easily believe was to do with the residence in that fine city of one Agnes Smith, who several records advise us is whence she came.
Well, there does seem to be a good fit in all of the preceeding, and future research might be expected to substantiate our speculations based on these circumstantial indicators.
Glenden in her English research also did some checking on the lady believed to be Capt. McDonald's (one and only) legitimate wife, Mary Rowe, previously identified by our cousin Jenny Gould.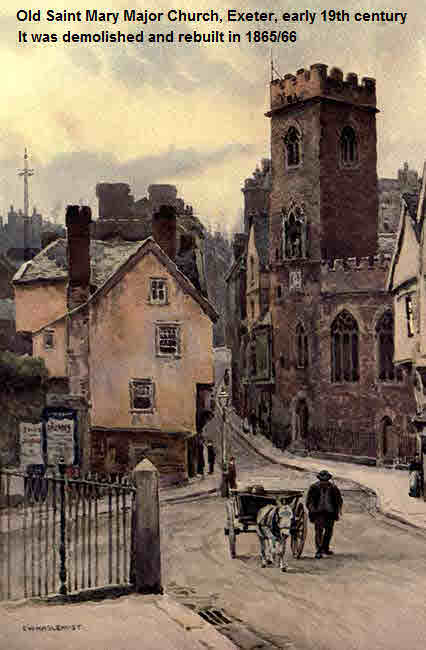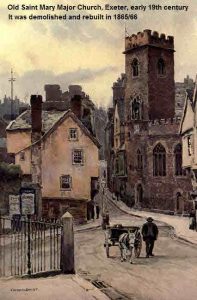 Glenden's comments follow:-
"Regarding the christening entry for Agnes Eliza McDonald Smith in 1832 at St Mary Major, Exeter. Firstly I suppose we can be reasonably sure that Capt. William McDonald married Mary Rowe. It is probably also fairly certain that they were never divorced, since divorce was very expensive in those days and I believe had to be an act of parliament. So when he met Agnes Smith, he could not marry her. And since in his Will he referred to Agnes as a spinster, she had not been previously married.
Now, getting to the point – the christening at Exeter. At that time in the UK, if the parents were not married, an illegitimate child legally took its mother's surname. This is why the name of the father is not mentioned. (So this is not a valid reason for supposing that William was not the child's father."
Whilst agreeing with Glenden's logic in this regard, we suggest it seems equally clear that just as Captain McDonald's last Will & Testament makes it clear that he and Agnes were never married, it also makes it clear that Agnes Eliza was not his biological daughter. The Will with the relevant wordage highlighted is linked here. Otherwise we wonder why would he not explicitly acknowledge Agnes Eliza as his and Agnes Smith's natural daughter.   
Capt.-Wm.-McDonald-Will
Britomart
– the Captain's Ship:
 Attached below is a compendium of notes taken from the these publications – Lloyds Shipping Register; Shipping Arrivals & Departures, Tasmania, Volume 1, 1803-1833; and Volume 2, 1834-1842. These summarise the history of Britomart and Captain McDonald's involvement with the ship. See it here – 
Britomart – Some History
The final paragraph in the history summary refers to Britomart's loss in Bass Strait – o
fficial reports about the Britomart's loss at sea with all hands are set out in papers under the Family Stories  – Captain William McDonald, Mariner/Adventurer.
Notes on Capt. McDonald and the Britomart
We know from the same sources (also same  ref. but 1834-1842) that Capt. McDonald arrived in Hobart from London with freight and passengers on the Britomart with his family in December 1834 and he is listed as the Captain. Britomart was an ex RN Brig/Sloop, 242 tons, built at Deptford, England 1808 and sold in Feb 1819, presumably not to William McDonald as we know he is still on his ship Good Intent in December 1831 in Antwerp. The Britomart carried the same name as it did when an RN ship – there were prior and subsequent RN ships of that name too.
Britomart – Voyage to England and Return, 1836/1838. Many years back our researchers came across a record held by our cousin Daisy Jean McDougall nee Gordon (known as Jean) – it consisted of a photograph of members of her family, and written on the back and bearing no relevance to the photo itself it stated –
"Presented to Agnes McDonald from her affectionate father on her sixth birthday on board the ship, Britomarte"
Jean recalled that her mother had been shown the note by another of the family and copied what it said onto the back of the photograph this being the handiest writing paper to she had to hand. Agnes Eliza was born December 31st 1831, so was aged 6 in December 1837 – Britomart was still in England then, thus implying the family was living on board whilst she was in port. We do not know which port this was but probably Falmouth, Exeter, or nearby.
We were aware from official records that Britomart had departed Hobart to sail back to England in March 1836 under Captain McDonald, but the discovery of Jean's photonote indicated that his family, Agnes Eliza and therefore most probably her mother Agnes Smith, were also on board.
Many years later cousin Jenny Gould in her research discovered a document taken from the diary of a passenger, Dr. Samuel Waterman Viveash, who was on board for the return voyage to Australia. Viveash's diary additionally confirmed that the Captain's wife Agnes Smith was on board, with his reference to 'the Captain's wife'. This leaves us in no doubt that all three were on board for the voyage to England and back.
But the Viveash diary told us much more than that – its descriptions of people and events on board during the voyage, and also after it arrived (December 1838) and remained at anchor for a couple of weeks in the Swan River settlement (Fremantle/Perth), told us much about the personality of our illustrious Captain. Clearly he was a seasoned, short fused and fiery old salt who did not suffer fools or any he considered fools (which was possibly in his mind just about everyone). The document records multiple disputes and relationship problems during the voyage to Swan River, and also records a dispute involving the Captain (somewhat inebriated ?) and fisticuffs which left him attending the Swan River settlement's Governor's dinner party wearing a black eye – no doubt to the acute embarrassment of spouse Agnes who accompanied him.
The document reproduced and titled as indicated here by The University of Queensland may be seen via this link – In-the-Wake-of-the-Pioneers
Jenny Gould's most interesting notes on Captain McDonald, and related items may be read here – Master-Mariner-William-McDonald