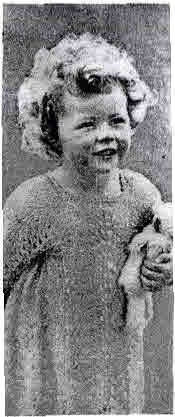 Patricia (she was known as Pat in the family) earns a place in our family honours and deservedly so in light of her being selected from 60,000 other babies from all over the British Empire to win the Empire Championship of 1924 for the best baby. How proud must have been her parents and close relatives at this achievement – and we can all share this pride so many years hence as we now learn about our young relative's time of fame.
The image below appeared in the Melbourne Herald on Wednesday 30th of July 1924, apparently one of several which appeared including some of Patricia with her mother.
Our cousin Jenny Gould who has been particularly active in her family research over recent years has taken the time to search out the details of Patricia's story; Jenny's mother had for years kept a photograph of little Patricia Wilson and related the story to her family. But just where Patricia fitted into the family remained unclear until Jenny's recent research which now allows us all to become familiar with the fuller story.
Appended below are notes Jenny has written detailing Patricia's moment of fame, and where she fits into Bonnie William & Margaret's family. Also appended is a pdf file displaying Patricia's ancestral lineage. Patricia married Arthur Kearton and they had at least one child, Garda Kearton who in turn is understood to have wed a Mr Hemming. We are hopeful that contact might eventually be made with Garda and members of her family.
Many thanks Jenny for another great piece of research.
BABY FOR EXHIBITION
"In a room at the office of the "Herald" yesterday afternoon there assembled doctors, artists, welfare workers, and others interested in the Empire baby quest. The prize-winning babies took a good-tempered though detached, interest in the proceedings, as they sat in the arms of their proud parents. The assistant editor of the "Herald" (Mr H Gullet) explained that when the proposal for a baby week to be held at the Empire Exhibition at Wembley, was put forward, the "Herald" was asked to conduct the event for the finest baby in Australia. It received 1,300 entries from Victoria and 5,000 entries from Australia, and he was pleased to say that the winning baby had been found in this State."

The Argus, Saturday 14 June 1924, page 25.
Mary Patricia Wilson (2yrs 8 months) of Royston Ave East Malvern won both the Victorian State prize (25 pound sterling) and The Australian Championship (50 pound sterling). She then went on to win The Empire Championship from 60,000 other babies from all over the Empire.
Mary Patricia (Pat) was the daughter of Rupert Tyrell Wilson and Mary Gardham Lindupp, granddaughter of John Frederick Wilson and ggranddaughter of John Bowman Wilson. Her win was covered extensively in the press with many photos (the Evening Herald Wednesday July 30, pgs 1&14 and following days). Additional material appeared including advertisments announcing her appearance at various theatres. The Auditorium Theatre in Collins Street showed a Paramount film of her at home and at play, together with live appearances. St Kilda's Victory Theatre and the Majestic in Flinders Street also advertised that she would appear, as did many others.
Photos of Pat Wilson show a very beautiful child and as noted in the Herald (30/6/1924) "—an example of the healthy lifestyle and diet of Australians"
Pat's Empire prizes were a cheque for 100 pound sterling, a War Savings Certificate for 100 pound sterling, and a silver porringer. Her mother won a silver tea set. Sadly Mary Patricia Kearton (Wilson) died in 1963 aged 42.
Jenny Gould