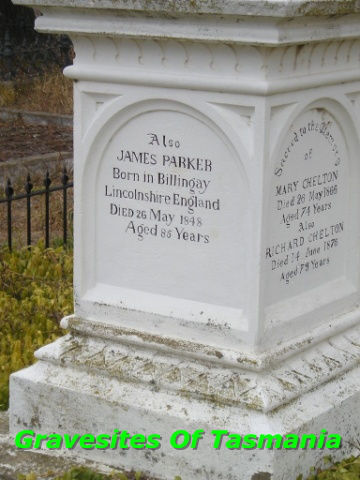 In our preceding article covering earlier research on the Langloh family we presented material concerning one Catherine Langloh Parker which fortuitously for our research included background information on the family of Frederick Langloh's wife Mary Parker. This material allowed us to identify details of Mary's Parker family origins and connections in England and Australia. The key paragraphs in the document about Catherine Parker is shown again here –
Langloh (Langloh Parker, Mary Parker's nephew) had many family connections, and he was a popular figure well known in cattlemen's circles. His zest for life and feats as a horseman contributed to his popularity. The whirl of social activity into which he introduced Katie is well described in A Colonial Reformer and other fiction of the period.
His family connections tied him closely to the cattle-raising industry. In 1820, before he was born, several members of the Parker family, including a daughter Mary and a son James, emigrated to Tasmania. Mary was married to Frederick Langloh, who took up land near Hamilton and named it Langloh Park. James and his son Jabez took up an adjoining property. Jabez Parker married Elizabeth Morris, and Langloh Parker was born to them in 1840; they named him after Frederick Langloh, who had died in 1827. While young Langloh was growing up on the island, Elizabeth's brother Augustus Morris was establishing himself on the mainland. In his early twenties he bought property at the northern end of Lake Colac, but sold it to Benjamin Boyd in 1842 and stayed on as manager. He explored much of the Riverina and proved the value of saltbush as sheep fodder. In the 1840s he managed Yangar and Paika and other stations for W.C.D Wentworth, took up Callandoon Station in Queensland and ran it solely with Aboriginal stockmen, and bought Yangar and Paika from Wentworth.
James Parker and his sister Mary are interred at Hamilton cemetery, Mary under her second married name Chelton. The grave epitaph (shown above) tells us they came from the village of Billingay in Lincolnshire, England. (James Parker was also aboard the Skelton with his sister Mary and her husband Frederick Langloh)
Catherine's Story is here – Katie-Langloh-Parker-Life-and-Times-of-an-Australian-Collector
Parker-Langloh (2) Trees are here – Parker-Langloh Trees
New Maps show Land Grants issued about the same time
Mid 2016 considerable new information was discovered, some via planned research and other purely by chance during research on indirectly related items. Newly discovered was an 1824 map of VDL Land Grants, spotted by our colleague Jenny Gould at an auction of Tasmanian historical documents in Melbourne. A copy originating from this map is attached below – it was obtained from the Tasmaniana Museum in Hobart – the original on sale at the auction sold for $…….
The copy is in high resolution pdf format – on opening, it may be substantially enlarged to show clear details of Grants as at 1824. On the left of the map are shown districts and names of Grantees and respective Lot numbers. A segment of this map is also attached below as a jpg image: to this image has been added locations for the Grants to Frederick Langloh, William Borrodaille Wilson, and William Hartley Wilson. The second image below shows the Langloh 2200 lot (actually more precisely measured at 2290 acres) on the Clyde River, close to today's town of Hamilton.
Readers will note at the bottom of this map is a reference to the fact that the original was carried back to Scotland by Captain James Dixon in the Skelton, on his return voyage. Interesting also is that Captain Dixon had also received his land grant at this time – it is in the region marked Aa, Lots 2 and 4 which adjoin, and on the Isis River.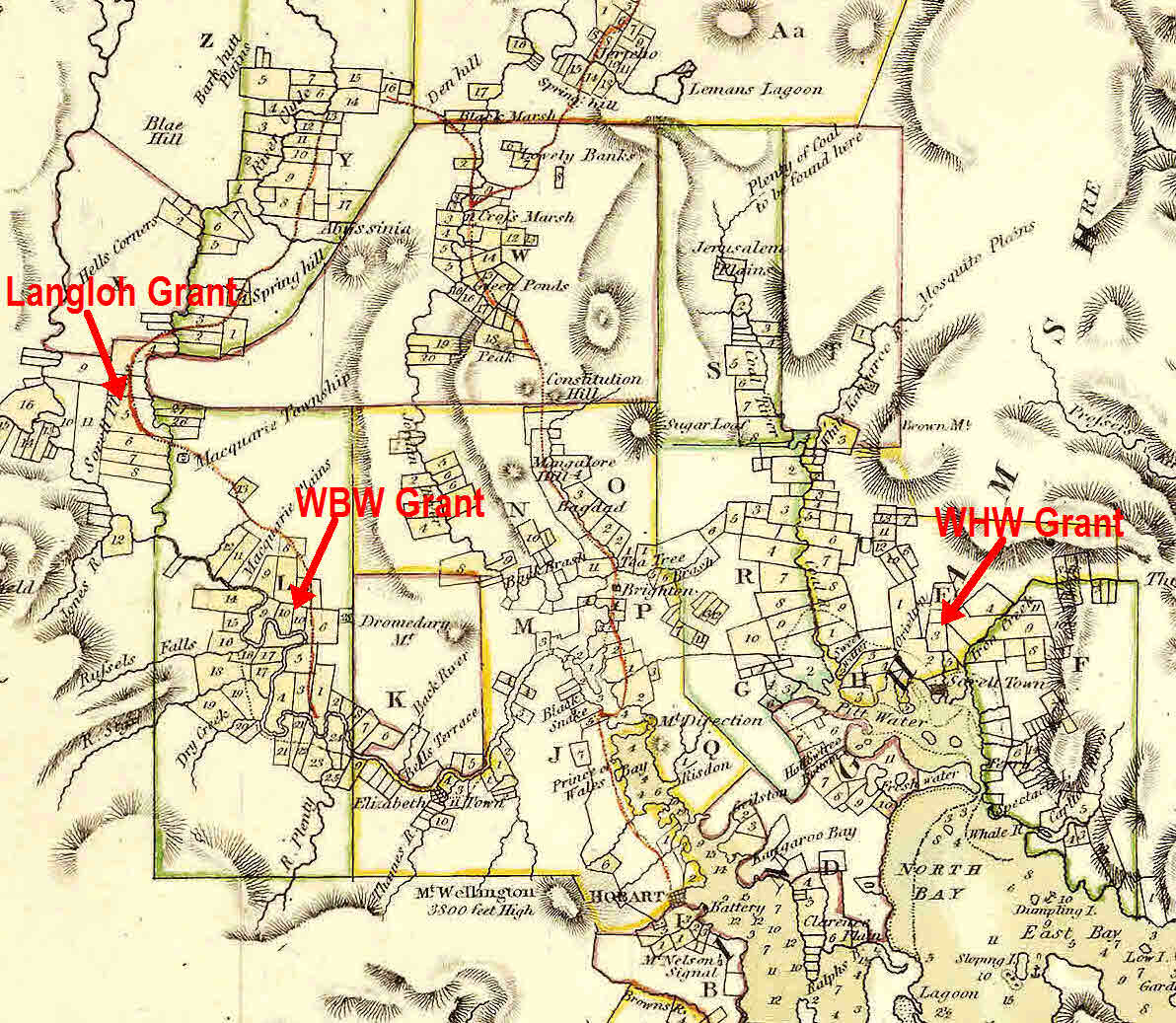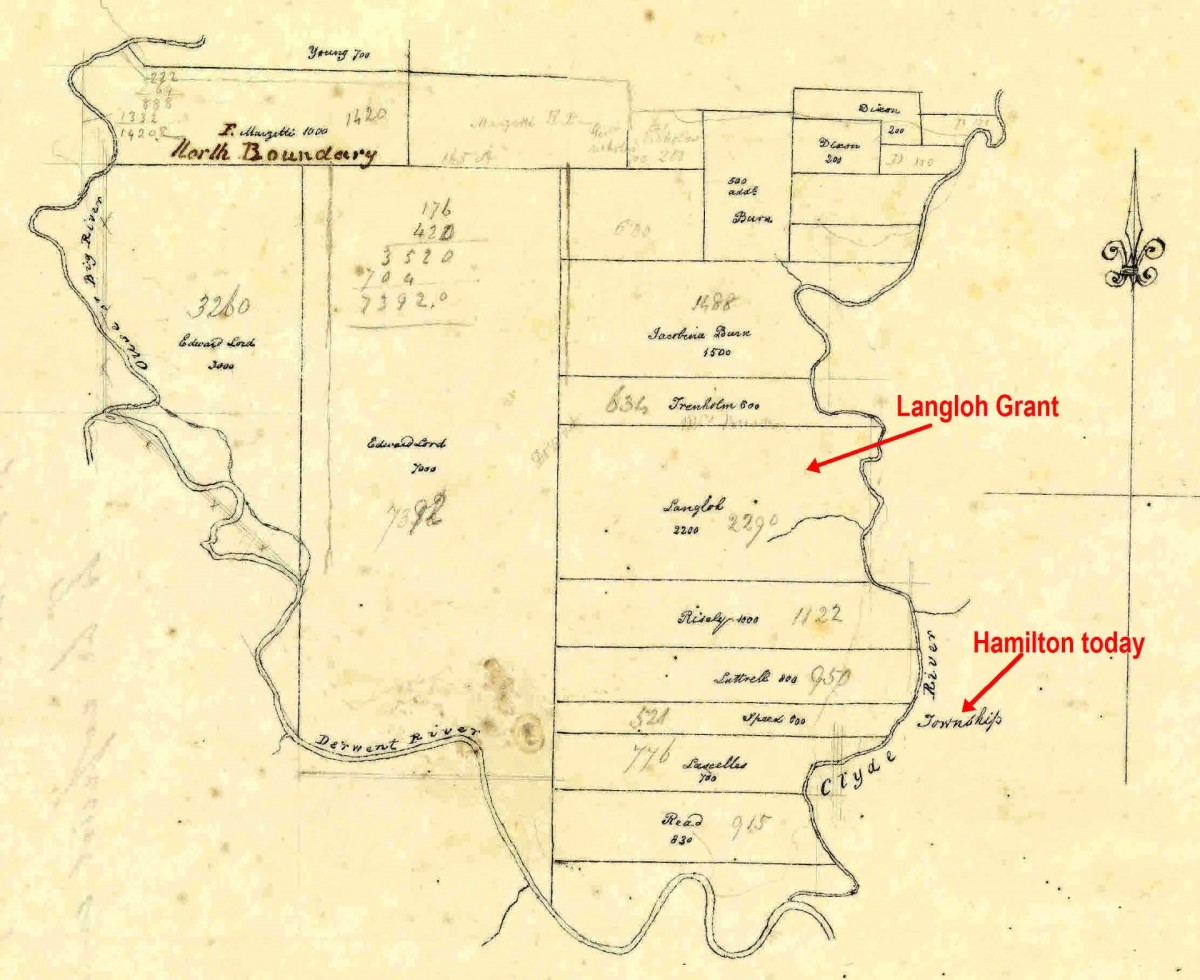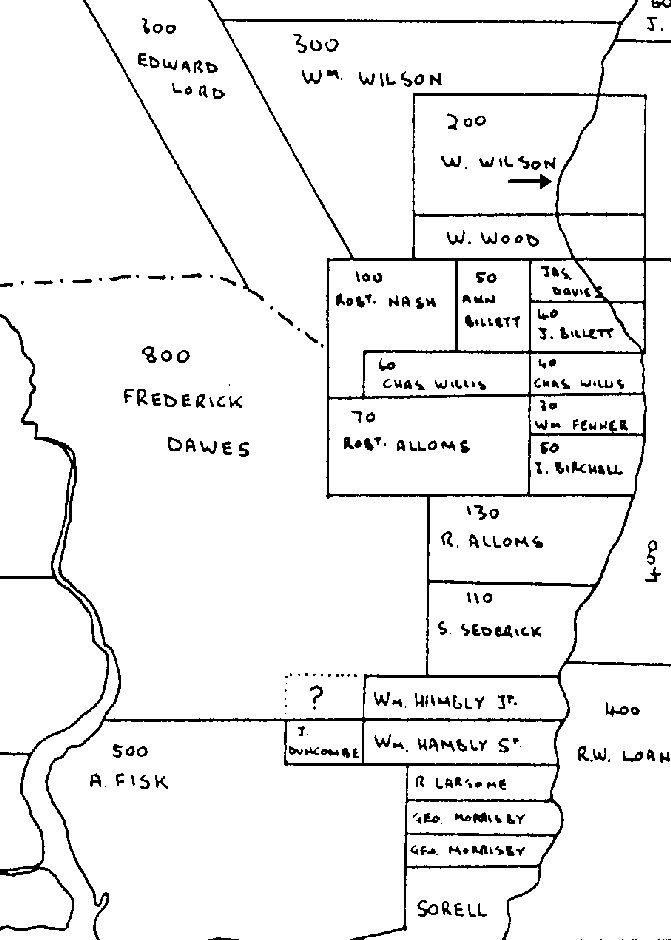 Frederick's origins and occupation
The second item of discovery concerns Frederick Langloh's occupation and location prior to arriving in Van Diemen's Land, and his marital status. We identified some years ago in English records a marriage between a Frederick Langloh and a Susan Casbeard, noted in our early records as –
…… a Frederick Langloh was married in August 1803 to a Susan Casbeard at 'Saint Andrew by the Wardrobe'* Church in London. This is the only Langloh name that can be found in the IGI in the British Isles – it seems a real possibility that this Langloh is 'ours'. [Langloh is a very rare name – it appears to be of German origin, and IGI identifies a few such names in Germany, and some in America who trace their origins back to Germany]
At that time we did not have the Catherine Parker document which identified Mary Parker as our Frederick's wife. And we could not reconcile the fact of Frederick Langloh and his wife Mary (no surname then) sailing in the Skelton from Scotland, with the Frederick Langloh in London married to Susan Casbeard – it seemed a major disconnect.
Then a totally unexpected windfall with discovery of a reference to our Frederick Langloh boarding the Skelton in Leith (Edinburgh) and identifying him as (sic) 'a lawyer of Grey's Inn Square, London' . This tallied with the legendary evidence as told us by our antiquarian Tasmanian cousins many years back that their parents/grandparents had told them that Frederick had been a lawyer back in Britain. [Correctly it is Gray's Inn Square, historically the centre of lawyer/barrister chambers in London]
The new information was discovered during a study of the material needs of the early VDL society looking at what was being produced there by the 1820s and what had to imported from Britain or as often happened from British colonial India. Quoting from the document discovered (A Study of Cargoes from Scotland to Australia, 1820–1824, Michael Nix) –
The Skelton's long turn-round time in Leith prior to sailing suggests Dixon found assembling a cargo a slow and troublesome process. In the second week of March 1820 he was in Glasgow promoting his 'experiment' amongst the merchant community. In the following week he announced in the Edinburgh press the securing of a 'large proportion' of passengers, but it was not until 4 April that his vessel was at her berth ready for taking in shipments – enabling her to be listed in the LCL's 'Loading for Foreign Ports' section. The first venturers to come forward with merchandise were James Duncan and Co., shipbrokers in Baltic Street, Leith, who attended the Custom House on May 18 and entered American rice, Dutch Geneva (genever) and French brandy. They were followed four days later by the passenger Frederick Langloh, a lawyer of Grey's Inn Square, London, and Dixon, whose bill of entry noted seven casks containing over one ton of Glauber's salts or crystalline sodium sulphate, a substance useful as a laxative. (Just why this fledgling Colony had need of such quantity of a laxative might perhaps be the subject of a new field of research!)
Following that revelation, compliments of our colleague Jenny Brown who researched the Ancestry repository June 2016, we now have the detail which confirms beyond question this is indeed 'our' Frederick.
Quoting now from Jenny's research –
It was good to catch up today and I always enjoy a challenge I started with the easiest first. The first thing I found on Ancestry was a photocopy of the Register of Marriages in the Parish of St Andrews by the Wardrobe, City of London of Frederick Langloh bachelor and Susan Casbeard spinster on 27 August, 1803.

Frederick Langloh – Spouse: Susan Casbeard

Record Type: Banns; Event Date 27 Aug 1803; Parish Register: St Andrews by the Wardrobe; Borough: City of London

Then to Mary Parker where he is described as a widower and she as a spinster

Esquire Frederick Langloh – Spouse: Mary Parker

Record Type: Marriage; Event Date: 17 Nov 1819; Parish Register: St George the Martyr, Queen Square; Borough: Camden

The following records relate to his indenture and work as a solicitor – a London Land Tax record for 36 Dyers Buildings, Farrington Without

a) Tenant: Frederick Langloh; 1814; Civil Parish: Farrington Without, England; Borough: City of London; Call No. MSS 11316/347

b) Frederick Langloh in the UK: Articles of Clerkship, 1756-1874; Clerk's Name: Frederick Langloh; Clerk's Father: Frederick Langloh; Attorney: Thomas Athinson; Filing Date: 8 Jul 1800; Parish/Town: Furnivals Inn; County: Middlesex

(We note here that Frederick shared his father's name.)

Finally Jenny also discovered in Tasmanian records further details of Frederick's land grant

Tasmania, Australia, Deeds of Land Grants 30 June 1823 spelt Langlow a grant of 2200 acres in the district of Sorell Plains bounded on the south side by Risely's farm and on the west side by one hundred and ten chains north on the boundary of a farm granted to Edward Lord Esq, on the north side by an east line to the Clyde , and on the east side by ??? The grant also includes "22 transported convicts"

The size of the grant and the allocation of convict labour indicates that Frederick arrived with considerable capital, capital being a key factor taken to account by the Colonial authorities in determining grant quantum and convict allocation.
The Langloh Relationship with the Wilsons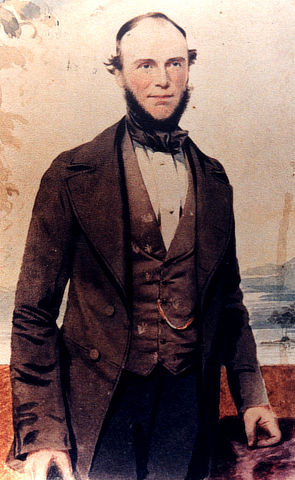 Most likely the relationship was one of a very close personal friendship which developed during the five months together on the high seas: certainly close enough that William and Margaret would name their second son Frederick Langloh Wilson (seen here). Further, the Langloh name continued to be used as middle name down a couple of generations both in the Frederick Langloh Wilson and the John Bowman Wilson arms.
Whilst it seems unlikely, the question of a closer blood relationship between Wilsons and Langlohs or perhaps the Parkers is still open for the present with some intriguing circumstances. Why for example did Frederick and Mary come up to Scotland to board the Skelton to VDL when it called at Plymouth after leaving Leith and took on more passengers there. Plymouth is a relative stone's throw from London where as we now know Frederick and Mary married just seven months prior to Skelton's Leith departure.
So when during that 7 months did Langloh and his bride Mary journey to Edinburgh/Leith, and if well prior to Skelton's departure, why. And why would Frederick leave an apparently successful legal career in London which equipped him with considerable capital, in order to emigrate to the clearly 'unknowns' of life in the antipodes.
Obviously further research is needed and may in time answer these questions.