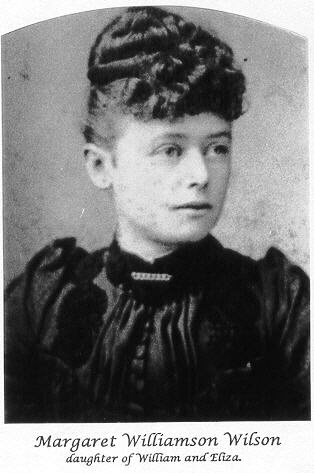 Jennie Towan has been researching various of the family and marriage connections on the William Sorell Wilson arm of Bonnie William's clan. Jennie is part of the WSW line and has been concerned that we have not so far uncovered as much of the history of William's descendants as we should be able to. So being a very vigorous member of the family, Jennie is working hard at correcting the imbalance.
Most recently Jennie has researched the John Niven connection – John was the husband of Margaret Williamson Wilson daughter of WSW. What Jennie has discovered about John and his family in Australia is very interesting, and we set it out here – we expect there will be more to come as Jennie continues her explorations.
John Niven
Born: 12 October 1852 Clackmannan, Fifeshire, Scotland
Married: Margaret Williamson WILSON, 1887
Died: 16 August 1918, Swan Hill, Victoria, Australia
When John was still a baby, he voyaged in to Australia along with his parents and older sister, Agnes, arriving in Australia in 1853. After travelling to various parts of Victoria with the family, he was a boy of nine when his parents took up land at Cherry Tree Creek in the Natte Yallock area, and began farming there. John and his sister were first-day pupils at the opening of the first school in the area in 1862, known as The Rural School No. 24 and this school served the area until a new school (Natte Yallock No. 1347) was opened in 1874. No doubt John did farm chores before and after school and, as a youth worked alongside his father.
John was still at the Cherry Tree Creek farm in part of the 1890s when there is documented evidence of his presence there during family visits. It has been said that the family were 'very fond of him although he was a dreadful tease and very sarcastic'. At the Niven farm they grew wheat and also grazed sheep. Men were employed on the farm, which has been described as a big wheat and wool farm on the Avoca River. There would have been plenty of scope for John to learn about farming first hand.
During 1887, when John was around 35 years of age, he married Margaret Williamson WILSON. No details of children born to John and Margaret have been found on Victoria index records to date.
In 1885, John's younger sister, Isabella, married a wealthy landowner, Elias Warne. Although the Warnes are known to have settled at Morton Plains (near Birchip) family notes record 'The Warnes had a big property at Horsham', in the Wimmera district, a long distance north-west from the Niven's Cherry Tree Creek property.
Eight miles north from Horsham was the Lonerenong Agricultural College – established in 1889. This college played an important part in the development of the Wimmera as one of the greatest primary producing districts of Australia; its cereal growing, irrigation experiments and animal husbandry contributed largely to the revolutionary changes in farming techniques. John's brother-in-law, Elias Warne, would have been familiar with the college's role in assisting research in the development of sound farming practices, and may have been instrumental in John's decision to move to the area in the 1890s.